Your Favorite Cake, For Breakfast!
Good old-fashioned homemade pancakes are a great way to start the day. Adding the goodness of carrots and raisins makes us all feel a little less guilty about cake for breakfast! Make it a little healthier and top it with fresh fruit and yogurt instead of syrup.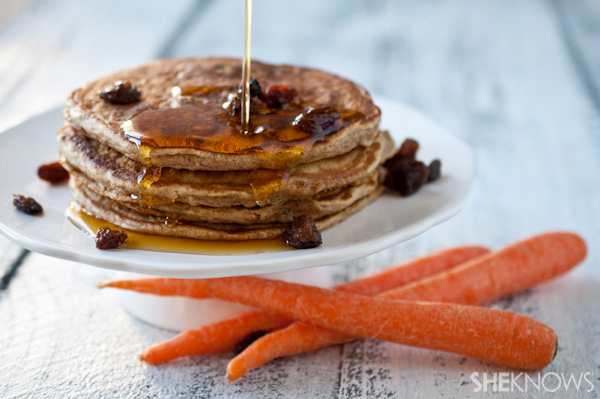 I love carrot cake filled with warm spices and plump raisins. Any excuse to eat it for breakfast is fine by me!
Carrot cake pancake recipe
Yields 14-16
Ingredients:
1-1/2 cups flour
1/3 cup brown sugar
1/2 teaspoon salt
1 teaspoon baking powder
1 teaspoon baking soda
1 teaspoon cinnamon
1/2 teaspoon nutmeg
1/4 teaspoon ground ginger
2 eggs
1-1/2 cups whole milk
3 tablespoons melted butter
1 teaspoon vanilla
2 large carrots, peeled, grated and pressed between stacks of paper towels
1/2 cup raisins
1/2 cup walnuts
Directions:
Preheat a grilled or large skillet, spray with cooking spray.
In a large bowl, stir together the flour, brown sugar, salt, baking powder, baking soda, cinnamon, nutmeg and ground ginger.
In a small bowl, whisk together the eggs, whole milk, melted butter and vanilla.
Stir the wet ingredients into the dry ingredients until just combined.
Stir in the carrots, raisins and walnuts.
Pour 1/4 cup batter onto a hot griddle.
Cook until the edges start to look dry, and the underside is golden brown, about 2-3 minutes. Flip and cook on the other side until cooked through
More pancake recipes
Bacon corn pancakes
Banana pistachio pancakes with reduced Marsala syrup
Amaretti pancakes with peaches