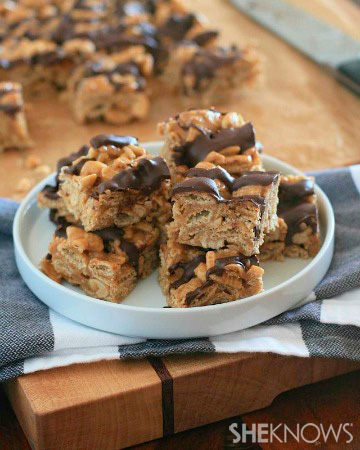 Sweet and salty snack
Who can resist the perfect combination of chocolate and peanut butter? We bet you can't eat just one of these indulgent Chex bars.
By using rice or corn Chex, these cereal bars can be shared with your gluten-free friends, too. But we understand if you'd rather eat them all yourself!
Chocolate and peanut butter caramel Chex bars recipe
Adapted from Baked Elements
Yields about 24 bars
Ingredients:
7 cups rice or corn Chex cereal
1-1/4 cups roasted, salted peanuts
1 cup brown sugar
1 cup light corn syrup
1 cup creamy peanut butter
1 tablespoon vanilla extract
1/2 teaspoon salt
3/4 cup bittersweet/dark chocolate chips (or 4.5 ounces chunk chocolate)
Butter
Directions:
Use butter to lightly grease a 9 x 13-inch pan. Set the pan aside.
In a large bowl combine the Chex and peanuts. Lightly toss and set aside.
In a small saucepan, combine the brown sugar and corn syrup and cook over medium-low heat, stirring until the sugar dissolves. Increase heat to medium and bring to a boil. Let the mixture boil for 1 minute without stirring. Remove from heat and add the peanut butter, vanilla and salt. Stir until well-combined and smooth.
Pour the peanut butter caramel sauce over the cereal mixture and toss gently but thoroughly, trying not crush the Chex. Transfer the mixture into the prepared pan. Use your hands to gently press down the mixture evenly. Be careful as the mixture will still be somewhat hot. Let cool for at least 20 minutes.
Melt the chocolate chips using a microwave or double boiler. Use a spoon to drizzle the melted chocolate over the bars. Let cool completely, placing the bars in the refrigerator if necessary to make sure that the chocolate hardens.
Cut the bars into squares. Store in an airtight container in the refrigerator or at room temperature in cooler climates.
TIP
Lightly greasing your hands before pressing the mixture into the pan will make the process much easier and less messy.
More Daily Flavor
Vegan coconut ice cream
Gluten-free lemon tart
Homemade chocolate hazelnut spread