Elegant appetizers
Choros à la chalaca (Peruvian mussels with corn salsa) is an elegant appetizer full of fresh flavors and spice, perfect for a light bite before a meal.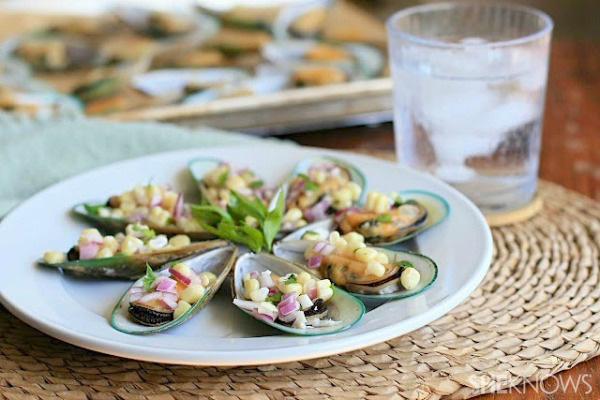 Serve these mussels on the half shell for a gorgeous appetizer or toss everything together in a bowl to make a delicious side dish.
Peruvian mussels with corn salsa recipe
Adapted from The Food and Cooking of Peru
Serves 4-6
Ingredients:
24 fresh New Zealand Greenshell mussels
1 ear of corn, shucked
1/2 red onion, diced
2 jalapeños, seeded and diced
1-2 tablespoons finely chopped fresh parsley
2-3 tablespoons fresh lime juice
Salt and pepper
Lime wedges to serve (optional)
Directions:
Scrub and de-beard the mussels. Discard any that are open and do not close when tapped.
Place mussels in a large pan with a thin layer of water. Bring to a boil over medium-high heat. Cover and cook for about 4-5 minutes until the shells have opened. Drain the mussels and discard any that failed to open. When cool enough to handle, remove one side of each shell and cut the mussel away from the bottom shell to loosen it.
In a large covered pot, boil the corn for 8-10 minutes. Remove from water and let cool slightly. When cool enough to handle, cut off the kernels. Place the corn in a bowl with the onion, jalapeño, parsley, lime juice, salt and pepper. Let the mixture sit for about 15 minutes to allow the flavors to meld.
Arrange the mussels on a serving plate or platter. Spoon the corn salsa on top of each mussel and serve with lime wedges on the side, if desired.
More Daily Flavor
Lemongrass shrimp skewers
Burmese shrimp and cucumber salad
Creamy coconut crab curry