Magnum, which has been around Europe since 1989, launched in the U.S. market in 2011. The bars, which are made from all-natural ice cream and rich Belgium chocolate, are marketed as the one of the first premium ice cream bars for adults. Their brand promises pleasure and after one creamy, crunchy bite, we can see why. In addition to hanging out at the exclusive Magnum lounge in Cannes, we also learned about Magnum's new pleasure spots and stores and how you can make your own perfect Magnum bar.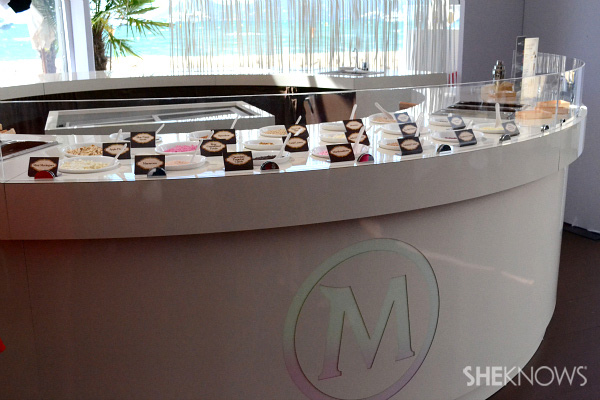 Magnum at the Cannes Film Festival
Since the ice cream has been around for years in Europe and represents a more upscale, elegant snack, it makes perfect sense that they would sponsor the ultra-chic and hip Cannes Film Festival. The Lounge was right on the Croisette, with the bustling street on one side and the beautiful French white sandy beach on the other. To further promote their pleasure spots (stands where you can make your own Magnums), they set up a beautiful bar right in the middle of the lounge. Completely unique to Cannes, they had beautiful toppings like gold flakes, rose petals and even mini raspberry tarts.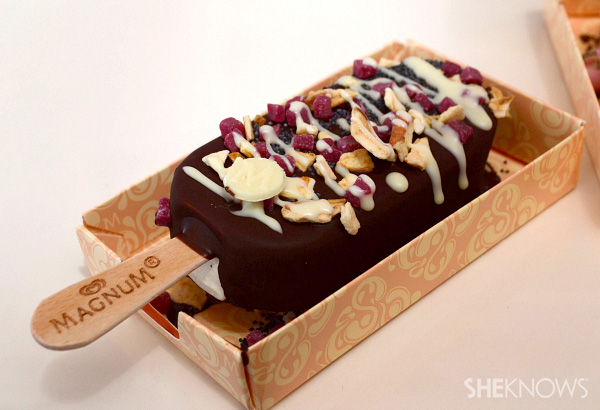 The science of making your own
If you're looking for fruity pebbles or mediocre chocolate chips, you may want to seek a dessert elsewhere. Magnum's make your own experience is a notch above that, featuring elegant and luxurious toppings like gold flakes, macadamia nuts, premium white chocolate and even dried rose petals. But making your own bar isn't as simple as you may think. In fact, there's a science behind it.
According to head pleasure maker Katie Petridi, the ingredients have to be just the right temperature to reach optimum Magnum success. The ice cream needs to be -4 degrees F and the chocolate needs to be perfectly melted. Plus, you can't just dip. You have to dip and hold the bar on level with your head and immediately drizzle with more chocolate and top before it dries.
Behind the scenes with Magnum
Even though the bars have only been in the U.S. for just shy of two years, they're already making waves with their marketing campaign. They've recently released a series of YouTube movies to align with the launch of Magnum Gold, which is a sea salt and caramel bar coated in gold chocolate. One of the movies feature Joe Manganiello, the stud from True Blood. In addition to celebrities, they also worked with top designer Zac Posen to create a stunning 24-carat gold gown, valued at more than $1.5 million, for the Tribeca Film Festival back in April. They also teamed up with the designer behind Alice and Olivia in 2012 to create a unique mini-skirt to promote the newer Magnum minis.
More food travel stories
Adam Richman talks sandwiches, food and travel
Heart health tips from Top Chef alum Antonia Lofaso
Plane trip food