Southern cooking,
the gluten-free way
Classic Southern cornbread gets a gluten-free makeover and a flavor boost from jalapeño and cheddar cheese.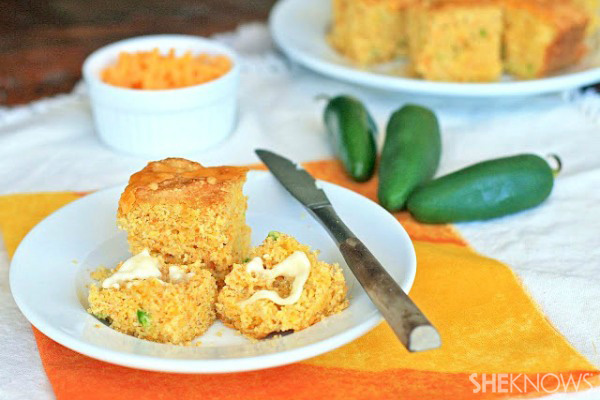 Whether you're gluten-free or not, you'll love this cheesy cornbread slathered with butter.
Gluten-free jalapeño cheddar cornbread recipe
Adapted from Bon Appetit Y'All: Recipes and Stories from Three Generations of Southern Cooking
Serves 6-8
Ingredients:
1 cup white or yellow cornmeal
1/2 cup rice flour
1/4 cup sorghum flour
1/4 cup potato starch
1/2 teaspoon xanthan gum
2 tablespoons sugar
1-1/2 teaspoons baking powder
1-1/2 teaspoons baking soda
3/4 teaspoon salt
1-1/4 cups shredded cheddar cheese, divided
1/4 cup melted butter
1 cup buttermilk
2 large eggs
1 jalapeño, seeded and minced
Directions:
Preheat oven to 400 degrees F and grease a 9 x 9-inch pan.
In a large bowl, combine the cornmeal, rice flour, sorghum flour, potato starch, xanthan gum, sugar, baking powder, baking soda, salt and 1 cup cheddar cheese.
Pour the melted butter on top of the cornmeal mixture. Add the buttermilk and eggs. Stir to combine. Mix in the minced jalapeño.
Pour batter into prepared pan. Bake about 20 minutes, until the top begins to turn golden brown and a toothpick inserted in the center comes out clean.
Remove the cornbread from the oven and sprinkle with the reserved cheddar. Return to oven and bake until the cheese is melted.
Let cool slightly before cutting into squares. Serve warm.
More Daily Flavor
Gluten-free lemon tart
Gluten-free leek and onion tart
Jalapeño pale ale cornbread