Colorful and healthy
Jump on the quinoa bandwagon with this hearty and healthy quinoa, black bean and corn salad.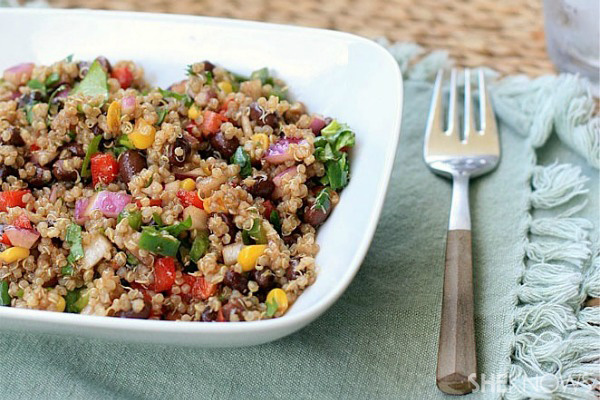 Pack this quinoa salad in a picnic basket or bring it to a potluck for a delicious crowd-pleasing side dish.
Quinoa, black bean and corn salad recipe
Adapted from The South American Table
Serves 8
Ingredients:
1 cup quinoa, thoroughly washed in a fine sieve (unless prerinsed)
1-3/4 cups water
1 (15 ounce) can black beans, thoroughly drained and rinsed
1 cup frozen corn
1/2 red bell pepper, seeded and finely chopped
1 jalapeño, seeded and minced
1/2 red onion, finely chopped
1/4 cup cilantro leaves, roughly chopped
1/3 cup olive oil
1/4 cup balsamic vinegar
Salt and pepper
Directions:
In a medium saucepan combine the quinoa and water. Bring to a boil, reduce heat, cover and simmer until all of the water has been absorbed. Do not remove the lid. Remove from heat and let stand for 5 minutes. Fluff with a fork and let cool slightly.
In a large bowl, combine the cooked quinoa, black beans, corn, red bell pepper, jalapeño, red onion and cilantro. Mix well.
In a small bowl whisk together the olive oil and balsamic vinegar and pour over the quinoa mixture. Toss to coat. Season with salt and pepper, as needed.
More Daily Flavor
Greek garbanzo bean salad
Curried tuna salad
Cilantro lime jicama salad