If you're trying to cut down on the salt, give your food pep by spritzing on lemon juice, salt-free dry herb and spice blends, and fresh ground black pepper.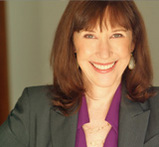 Noelle Nelson
Dr. Noelle Nelson is a relationship expert and an internationally respected psychologist, author and seminar leader. She has given life-changing guidance to couples for more than 20 years.
Check out Noelle's relationship and marriage advice, and let her guide you though some of the difficult issues that couples often face.
Read Dr. Nelson's
Love Expert column >>
Find out more about this expert at their website