Meet Nina
Beauty tips
Bombshell
Shortcuts
What's Hot in...
Beauty Expert
Try a facial massage in the morning with your favorite moisturizer to get the blood flowing in your face. Be gentle around your eyes and massage from...
Nina's At-home Beauty How Tos
See more beauty tips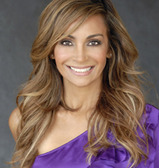 Nina Sutton
Nina Sutton is a beauty and style expert and on-camera host. She is also the author of the The Chic Moms Guide to Feeling Fabulous. Nina has appeared on shows such as The Doctors, E! Fashion Police, Oprah Winfrey Network, The Ricki Lake Show, Fox News, TV Guide Channel and many more. Nina was also the winner of People Magazine's first "Real Beauty at Every Age" in May 2012 and was the first "real person" to appear in People Magazine's famous "Most Beautiful Issue". Her new online show "Everyday Fabulous" will launch in May 2013.
Find out more about this expert at their website