Ever wonder what's in those swag bags?
Take home the same goodies the starts did at the Writers Guild Awards!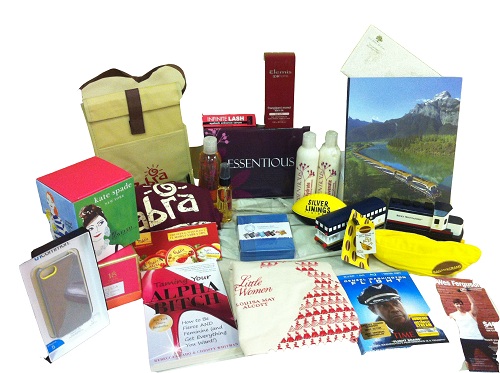 You too can be a star!  Win the gift collection given to celebrities like Jessica Chastain, Amy Poehler, Eric Stonestreet, Nathan Fallion and more at the Writers Guild Awards.  Items include:
Essentious is a luxury hair care line formulated with natural ingredients to nourish, hydrate, and strengthen your hair.  Essentious hair care products are Aloe Vera based, ph balanced, and protein fortified.  Free of sulfates, silicones, petroleum, mineral oil, and parabens. For all hair types. 
iFred, the International Foundation for Research and Education on Depression is creating a shift in society's negative perception of depression through positive imagery and branding—establishing the sunflower and color yellow as the international symbols of hope for depression.  Prize includes a small sunflower pin plus a brochure on the cause,
Infinite Lash is a unique eyelash enhance serum that promotes thicker, fuller, longer looking lashes.  The gentle and effective formula thickens the hair follicles while hydrating and strengthening weak and brittle lashes. Gentle enough for contact lens wearers. Natural and paraben free.
Rocky Mountaineer- Wooden train set.  
Sabra Dipping Company, LLC is a leader in the refrigerated dips and spreads category and producer of America's top-selling hummus. Sabra's award-winning hummus, available in more than a dozen flavors and a wide range of authentic, healthy and vegetarian dips and spreads can be found nationwide in club stores, supermarkets, specialty retailers and through food service. Sabra operates a silver LEED certified factory in Virginia, and in 2011 received an A-Classification from the British Retail Consortium (BRC) audit board for food safety for its California plant.
Bananagrams Inc- The anagram game that will drive you bananas! 
Elemis Skincare and Spa Brand- Exquisite treatment oil with an exotic blend of sweet scented Frangipani flowers.  It has long lasting hydration properties to seal in moisture leaving skin silky soft.  Can be used as an intensive treatment for hair and nails.  
Invitation Consultants- Stylish personalized stationery featuring fresh designs from the experts.
kate spade new york- Pompano Point 2 piece dessert set.  
Lollia Poetic License Candle Boutiquerie- Modern, romantic luxury personified; tailored glass encased in a keepsake box of vibrant fresh-picked colors, deliciously paired hues set off by modern lines of sophisticated gold accents.  
Martin Greenfield Heritage Beverly Hills- Certificate for $250 custom shirt.    
Out of Print Clothing- Set of eight coasters with iconic book cover art from Catch-22, Invisible Man and Pride and Prejudice among others plus a tote with Out of Print's adaptation of Louis Jambor's original cover art for Alcott's classic novel.  
Paramount Home Media Distribution- The FLIGHT Blu-ray/DVD combo pack includes compelling special features that take audiences behind-the-scenes to learn about the film's journey to the screen, the making of the movie, how the filmmakers created the terrifying plane crash, and highlights from a Q&A panel at the New York Film Festival. 
Rachel Hulan for Furnishing Hope- Interior Designer Rachel Hulan, ASID, CID, of sustainable interiors firm Hulan Design, will be creating a luxury lounge showcasing the amazing furniture and sense of purpose found in the work of Furnishing Hope.  Rachel will present a certificate for a free consultation. 
Simply Divine Brownies- Half a dozen assorted brownies with Writers Guild logos and a gift certificate for $25.00.  
"Taming Your Alpha Bitch"- Written by Christy Whitman and Rebecca Grado.  BenBella Publishing.  Authors give women the ultimate solution on how to be fierce and feminine and get everything they want.  
Uncommon, LLC, -  Uncommon ColorsTM and ClearlyTM Uncommon CasesTM for the iPhone 5 are available at GetUncommon.com. Or create your own customized case featuring photos or artwork.  
Items in photo subject to change based on availability- some colors and styles may vary.  Courtesy of Backstage Creations.