Enter to win Snow White & the Huntsman on Blu-Ray and more!
A stunning and epic cinematic odyssey that will blow you away!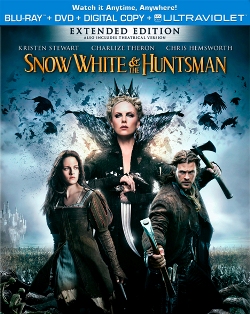 Venture into a land of action fantasy, heroic battle scenes and visual wonder in Snow White and the Huntsman Extended Edition, coming to Blu-ray Combo Pack, DVD, On Demand and Digital Download on September 11, 2012, from Universal Studios Home Entertainment. Packed with pulse-pounding battles, unmatched visual imagination and compelling characters, Snow White and the Huntsman is a wholly original adventure story told on an epic scale. From the splendor of the wicked Queen¹s enchanted palace to the menace of the Dark Forest, a breathtaking combination of harrowing beauty, epic battle scenes, visual wonder and jaw-dropping special effects make this film singularly suited for the incomparable high-definition picture and perfect hi-def 5.1 surround sound of Blu-ray. 
The Snow White and the Huntsmen Prize Pack includes: 
Snow White and the Huntsman Blu-ray
SWATH "female" keychain (mirror)
SWATH "male" keychain (bottle opener)
Sheet of temporary tattoos
Mini poster

Click here to learn more about Snow White and the Huntsman!
Enter now for your chance to win!
Entries are unlimited.