Book 2 of the Marriage to a Billionaire series
In response to the first book, Marriage Bargain.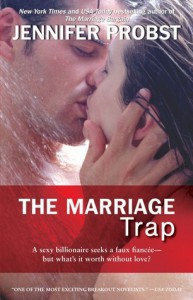 To satisfy his late father's wishes, hot and single billionaire Michael Conte must find a bride—someone who will fit into his traditional family back home in Italy—and fast, so his engaged sister will be allowed to wed. With no intention of being tied down, Michael "proposes" to fiery, free-spirited photographer Maggie Ryan: if she will play the part of his fiancée during her trip to Milan for a photo shoot, he will keep away from her married best friend, Alexa, and stop making Maggie nuts with their too-close-for- comfort flirtations.
But once in Italy, sexual tension sparks the hottest no-strings- attached arrangement on any continent. Could marriage be the most enticing trap of all?
Enter now for your chance to win!
Entries are unlimited.