Enter now to win a copy of MAGNOLIA!
Carolina Garcia-Aguilera's steamy novel about a sports geisha for elite athletes….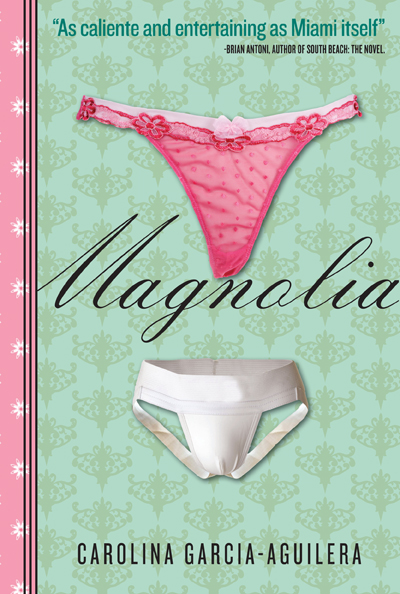 On a hot, sultry August afternoon, twenty-two-year-old Magnolia Larson finds herself sitting on a barstool at the Miami Sports Bar, nursing a rum and Coke and having to decide whether to remain in Miami or return home to Minneapolis. Suddenly, a very attractive, beautifully dressed woman sits on the barstool next to her and introduces herself as a sports agent. Almost out of money and with no prospects of making any, Magnolia is intrigued by the sports agent's proposal to train as a "sports geisha," a high-priced hooker for elite athletes. While making a great deal of money, Magnolia would acquire skills that will serve her well throughout her life--learning languages, studying the pressures elite athletes are under with a sports psychologist, and getting into top-notch physical shape--but the decision isn't as simple as it seems. The offer allows Magnolia to remain in Miami while enjoying a huge payday. But can a conservative Catholic girl from the Midwest transform herself into a courtesan? And if she does, at what personal cost?
Like Carolina Garcia-Aguilera on Facebook
Follow Carolina Garcia-Aguilera on Twitter
Enter now for your chance to win a copy of Magnolia by Carolina Garcia-Aguilera!
Entries are unlimited. 
Check out more SheKnows Giveaways!