Saddle up for suspense!
As deadly forces once more threaten this clan of cowboys and cowgirls from all sides, do they still have what it takes to survive?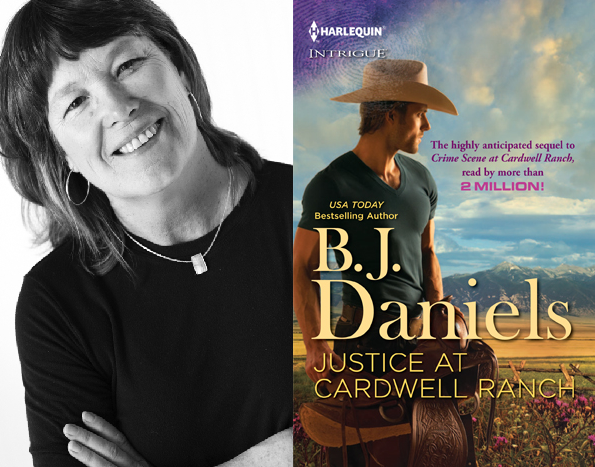 Six years ago a close-knit family of ranchers came apart at the seams, torn asunder by their mother's controversial will. Bitter and angry, they went their separate ways, never wanting to see each other or home again. But now they're back, each for different reasons. Yet, for their elder sister, this unexpected and unwanted family reunion means only one thing—trouble. Bestselling author, B.J. Daniels, returns to life on the range with JUSTICE AT CARDWELL RANCH, the highly anticipated sequel to her book read by more than two million people, Crime Scene at Cardwell Ranch. 
When Dana Cardwell found her mother's revised will in a cookbook six years ago, it did more than make her sole owner of  Cardwell Ranch in Big Sky, Montana. It also prevented her siblings, Jordan, Stacy and Clay, from selling off their mother's beloved homestead. With that drastic change in fortune, her brothers and sister left Big Sky canyon on the worst of terms with Dana who had not heard from them since. So when both Jordan and Stacy simultaneously reappear in Big Sky suddenly out of the blue, Dana knows that trouble is sure to follow.
Despite the bad blood between them, when Dana finds her sister, Stacy, waiting at her door with a baby, she welcomes them. Still, there's something suspicious about Stacy's story. She's not telling Dana the whole truth and it has something to do with that baby. Does her return have anything to do with their brother Jordan who has been seen in town, too? Or is their other brother, Clay, involved?
Enter now for your chance to win!
Entries are unlimited.