Celebs Talk Desiree
& Her "Right Reasons"
From past contestants of the show to Howard Stern, everyone's got something to say about this season of The Bachelorette so far.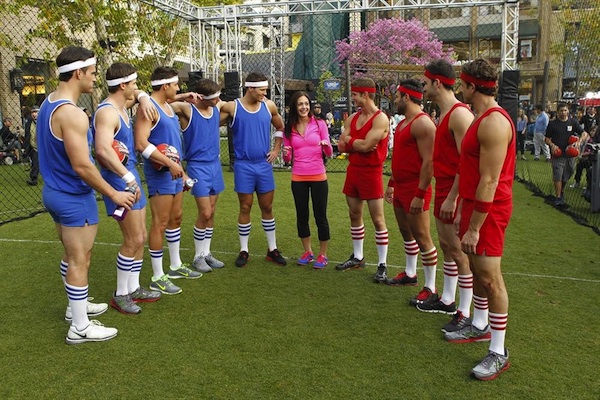 The drama of The Bachelorette is unfolding and whether it's a guilty pleasure or an obsession, celebs can't help but weigh in on Season 9, too. Some of the tweets are hilarious, others are cringe-worthy, but all of them are so much fun to read.
Desiree Hartsock is enjoying her place in the limelight and sharing episode details each week from Twitter.
Finally back in action! #noplacelikehome but looking fwd to sharing my journey with you all. Thanks again for all the support! #bachelorette

— Desiree Hartsock (@DesHartsock) May 12, 2013
If you're ever bored or in a bad mood, head over to Jason Biggs' Twitter account. He has some of the funniest things to say about The Bachelorette and other current events.
When all the guys are together in the same room, I'm just waiting for them to start a human centipede. #thebachelorette

— Jason Biggs (@JasonBiggs) June 4, 2013
Alyssa Milano was watching the premiere and wasn't so into Jonathan. Not that we blame her. Good thing Desiree had the sense to send him home.
This guy Jonathan on #bachelorette is making me so uncomfortable. #creepy

— Alyssa Milano (@Alyssa_Milano) June 3, 2013
Emmy Rossum wants Desiree to stick to her humble beginnings.
Seriously, why can't they just go to a movie and then to Applebee's? #bachelorette

— Emmy Rossum (@emmyrossum) June 4, 2013
Jennette McCurdy isn't a fan of the show, but that doesn't stop her from tweeting about it, so she's asked her fans for help.
If I ever tweet about watching the Bachelorette, unfollow me.

— Jennette McCurdy (@jennettemccurdy) May 10, 2013
Kathy Griffin adds her wisdom.
Watching #TheBachelorette. This latest Rhodes scholar looked out over the cliffs of Malibu & asked "is that the ocean?"

— Kathy Griffin (@kathygriffin) May 28, 2013
Season 16 Bachelor contestant Rachel Truehart weighs in on the Bentley, and she's totally right.
That Bentley has gotten more screen time than most the dudes #bachelorette

— Rachel Truehart (@RachTrue_) June 4, 2013
Former Bachelorette contestant Arie Luyendyk Jr. is just sad he isn't the next Bachelor.
Sweet Honda Civic #saidnooneever #bachelorette

— Arie Luyendyk Jr. (@ariejr) May 28, 2013
Howard Stern isn't exactly the celeb we thought would be tweeting about The Bachelorette, but here you have it. People will always surprise you.
The new Bachelorette started.The hole in my life is filled.

— Howard Stern (@HowardStern) May 28, 2013
Ben Scott still insists he's here for the "Right Reasons." We're still trying to figure out what the guys know that we don't. Do you believe Ben?
Oh the drama continues.. Why does wanting to talk to the girl you like make you there for the wrong reasons? Im confused #the bachelorette

— Ben Scott (@BenScottTX) June 11, 2013
Adam Scott liked Ben's tactics on the premiere.
The dude who brought his 2 year old son on The Bachelorette seems pretty cool.

— Adam Scott (@mradamscott) May 29, 2013
Mo Rocca is trying to pretend he doesn't love it.
Watching the Bachelorette for the first time. The object is for the girl to figure out which one of these guys is straight, right?

— Mo Rocca (@MoRocca) June 11, 2013
Jenny Mollen can't get that rap out of her head. It is dangerously catchy.
Does anybody know if Right Reasons is available for download on iTunes? #bachelorette

— Jenny Mollen (@jennyandteets) June 4, 2013
Former Bachelor contestant Jason Mesnick really likes "Right Reasons," even though they poked fun at him, too. Really, he just wants to know where they got the hat.
I love that the guy playing Ty is wearing a propeller hat!Now I want one! #bachelorette

— Jason Mesnick (@jason_mesnick) June 4, 2013
Last, but not least, radio host Kidd Kraddick has some advice for aspiring Bachelorette contestants.
If you know you're going to be a contestant on #bachelorette you better stage a near death experience.

— Kidd Kraddick (@KiddKraddick) June 4, 2013
Images courtesy of ABC