Meryl Streep Turns 64
Meryl Streep turns 64 on June 22! In honor of her birthday, we're remembering some of her best roles. Somehow we feel that her best work is yet to come... and that's really saying something.
Miranda Priestly — The Devil Wears Prada

It's hard to believe someone so warm and friendly could portray an ice queen magazine editor, but Meryl did — with ease — in 2006's The Devil Wears Prada.
The iconic actress definitely loved playing such a difficult character because she said she's willing play Priestly again if the book's sequel comes to the big screen.
"I'd have to lose the f***ing weight, but yes," she told Access Hollywood in 2012.
Favorite quote: "By all means, move at a glacial pace. You know how that thrills me."
Margaret Thatcher — The Iron Lady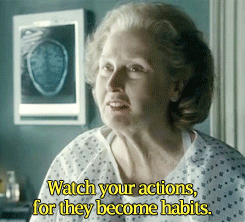 Meryl won her third Academy Award for her role as Britain's Iron Lady, Margaret Thatcher. The actress completely enveloped herself in the role, taking on the elderly politician's mannerisms and walk with ease.
"To me she was a figure of awe for her personal strength and grit," Streep said in a statement about Thatcher after the former prime minister's death in April 2013. "To have come up, legitimately, through the ranks of the British political system, class bound and gender phobic as it was, in the time that she did and the way that she did, was a formidable achievement."
Favorite quote: "Watch your thoughts, for they become words. Watch your words, for they become actions. Watch your actions, for they become... habits. Watch your habits, for they become your character. And watch your character, for it becomes your destiny! What we think, we become."
Julia Child — Julie & Julia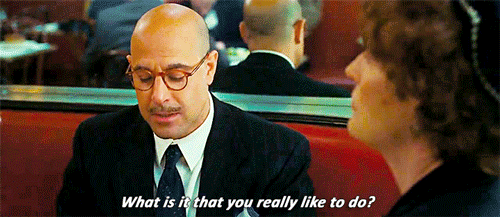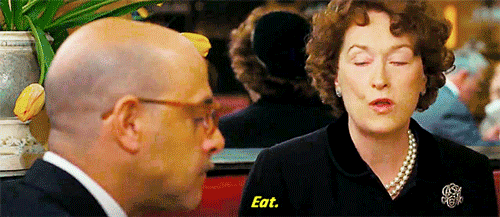 Meryl is the only actress who can do legendary chef Julia Child any justice — and she definitely did so in the 2009 film Julie & Julia. Seriously, who else could copy Child's shrill voice with ease? Only Meryl.
Favorite quote: "If no one's in the kitchen, who's to see?"
Francesca Johnson — The Bridges of Madison County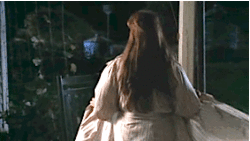 A woman's heart is full of secrets — and sometimes those secrets stay quiet until death. In 1995's The Bridges of Madison County, Meryl played Francesca Johnson, an Iowa housewife who had a four-day affair with photographer Robert Kincaid (played by Clint Eastwood) while her family was away. Her tender portrayal of Francesca earned her a Best Actress in a Leading Role nomination at the 68th Academy Awards.
Favorite quote: "I want to love you the way I do now the rest of my life. Don't you understand... we'll lose it if we leave. I can't make an entire life disappear to start a new one. All I can do is try to hold on to to both. Help me. Help me not lose loving you."
Madeline Ashton — Death Becomes Her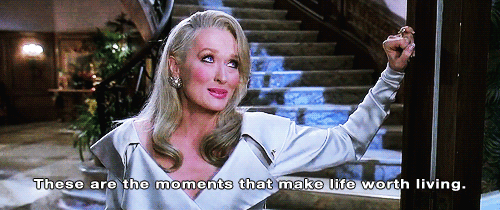 Meryl is mostly known for her serious roles, but she has comedic chops, too. Need proof? Her role in 1992's dark comedy Death Becomes Her still makes us laugh — and gives us nightmares.
Favorite quote: "Wrinkled, wrinkled little star... hope they never see the scars."
Suzanne Vale — Postcards From the Edge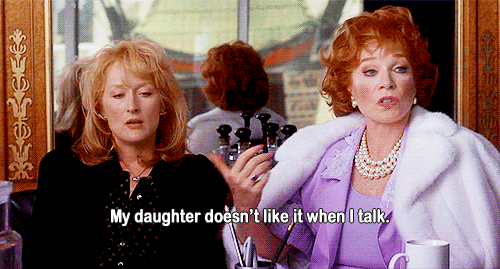 Meryl also knows how to play women who are seriously off-kilter, as in her role as the drug-addicted Suzanne in 1990's Postcards From the Edge.
Favorite quote: "Thank God I got sober now so I can be hyperconscious for this series of humiliations."
Mary Fisher — She-Devil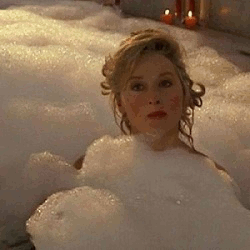 Only Meryl could go toe-to-toe with Roseanne Barr — and win!
Favorite quote: "I'm taking back control of my life, Bob! As long as you're all under my roof, things will be done my way, starting now!"
Sophie — Sophie's Choice
Meryl won her first Best Actress Academy Award for her poignant role as a tortured Holocaust survivor in 1982's Sophie's Choice.
The role might not be her typical in-your-face character, but it was actually her vulnerability that made her fierce.
"No question that this person was not going to dominate the conversation at a dinner party," she told NPR of Sophie. "So they fell in love with her."
Favorite quote: "Don't you see? We are dying. I longed desperately to escape, to pack my bags and flee, but I did not."
Joanna Kramer — Kramer vs. Kramer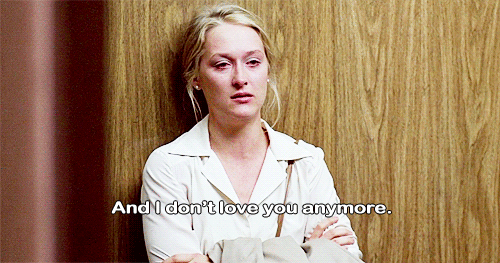 Meryl blazed yet another trail in 1979's Kramer vs. Kramer when she played a woman who ditched her family for greener pastures — and then wanted it all back.
Favorite quote: "I woke up this morning, kept thinking about Billy and I was thinking about him waking up in his room with his little clouds all around that I painted, and I thought I should have painted clouds downtown because then he would think that he was waking up at home. I came here to take my son home. And I realized he already is home."
Linda — The Deer Hunter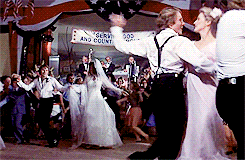 Meryl's iconic role as Linda in 1978's The Deer Hunter made her quite the hero among men.
"For men, the favorite character that I've ever played is Linda in The Deer Hunter, without question," she told NPR. "The heterosexual men that I've spoken to over the years, they say, 'That's my favorite thing you've ever done.'"
Favorite quote: "What goes through your mind comes out your mouth."
Tell us
What's your favorite Meryl Streep film? Sound off below!
Read on for more celebrity birthdays
Happy b-day, Blake Shelton! An evolution of his hair
Kate Upton turns 21! 15 Of her most sophisticated photos
Happy b-day, Johnny Depp! A look at his accessories over the years
Photos: WENN.com