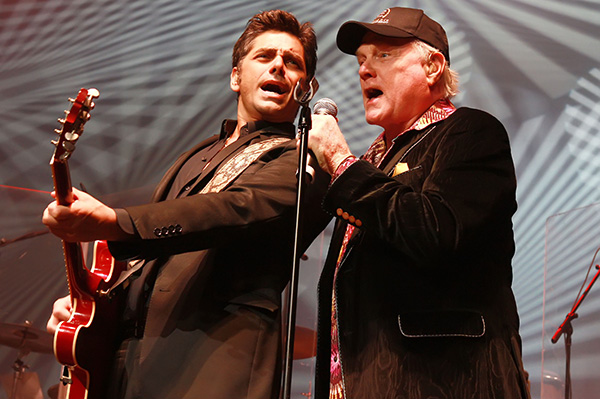 Stamos' best
musical moments
When John Stamos portrayed Uncle Jesse on Full House, he wasn't lying about his love of music. The Broadway and rock 'n' roll-obsessed actor has had a multifaceted career on stage, TV, film and tour, but he is best known for his occasional stint as The Beach Boys' touring drummer. Though it's enough to make a girl swoon, there's no denying his talent.
"Forever" by The Beach Boys
It might have been a little cheesy, but we all remember when Uncle Jesse sang The Beach Boys' "Forever" to Becky on Full House. And admit it — it totally won you over. His grizzled voice combined with the everlasting sentiment of the song has been the subject of many a first dance at weddings. Watching the video makes it even better. (He's shirtless in a bed, so… you know.)
"Put On a Happy Face" from Bye Bye Birdie
Who doesn't need to be reminded to smile every once in awhile? And when it's John Stamos doing the reminding, it makes it a little easier. This sweet little playful ditty "spreads sunshine" every time the lyrics crossed Stamos' lips during the 2009 revival of the classic musical.
"Money Makes the World Go 'Round" from Cabaret
It's Stamos like you've never seen him. Painted up in heavy gothic-inspired stage makeup, this Broadway musical shows that Stamos not only has acting chops, but singing ability too. It's so theatrical that it's hard to believe that soft-touch Uncle Jesse is hidden somewhere in there!
"Kokomo/Good Vibrations" by The Beach Boys
OK, so it technically isn't a cover because he was performing with the actual band, but Stamos rocks behind a drum kit! And when you see it in video, you can tell he's having the time of his life. He completely keeps up with any professionally commissioned drummer and successfully stands in for original Beach Boys beat keeper Dennis Wilson. Sure, the late Wilson can't be replaced, but if someone has to do it… why not Stamos!?
The Elvis medley from Full House
We all know about Uncle Jesse's Elvis Presley obsession, so it was no surprise when he pulled out all the stops in a medley of Elvis songs on the episode "Mad Money" from the first season. It included bits from "Suspicious Minds," "An American Trilogy," "Heartbreak Hotel" and more.
More celebrity facts
10 Things you don't know about John Stamos
Quiz: How well do you know Kate Middleton?
Brad Pitt and Jennifer Aniston are supposedly friends
Photo credit: WENN