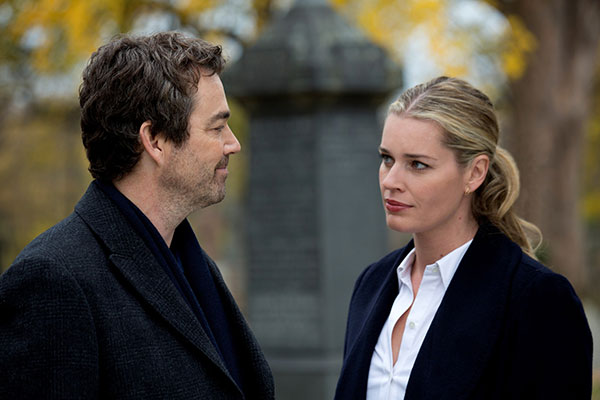 Catching bad guys... with a twist!
Television crime dramas told from the law enforcement perspective are a dime a dozen, but that doesn't mean it's a tired genre. Instead, that means it's time for a new twist, and boy, does summer's new King & Maxwell have that!
This new series stars Rebecca Romijn as Michelle Maxwell — a sharp-as-a-tack investigator with keen sensibilities — and John Tenney as charming, intuitive Sean King. This new crime drama will get heavy fast when it premieres June 10, so here are the basic facts to get you going.
They're Secret Service agents turned private eyes
Both characters are former Secret Service agents, trained to the teeth with razor-sharp wit and superb skill. However, when they're discredited and forced out of the agency, they turn to the world of private investigation to continue their love of catching bad guys.
But they're not after your typical bad guys
However, the bad guys you meet aren't always displaying gang colors or flashing guns. In fact, some of the best bad guys are disguised as good ones in plain view. King and Maxwell don't need to cover petty crime. Instead, they take on the big guys, from bankers to businesspeople and those who make a living harming others the white-collar way. Villains from Washington, D.C., and New York's financial district make appearances. Let's just hope that, unlike in real life, these bad guys don't get away with it.
Sean King's moral compass is his main weapon
Jon Tenney has played law enforcement officials for much of his career, including on TNT's The Closer. However, his character here isn't governed by the laws of the land as a private investigator. Instead, Sean King uses his charm and moral compass to get into the heads of criminals and out of trouble when necessary. After all, who needs a uniform when you can investigate in plain clothes in plain view?
It's based on a best-selling book series
Some of the best TV crime dramas work around a book as a starting point, and King & Maxwell is no exception. Based on the five-part King & Maxwell series by David Baldacci, the story is ever evolving. Baldacci is set to release the sixth book in the series in fall 2013, meaning there's plenty of story for the TNT writing staff to work from in the future.
Will they or won't they?
Both characters are attractive and share the same passion. The sexual tension is bound to rise throughout the series, but will they break it? You'll just have to watch to find out!
More crime dramas
Back for Season 4: Get caught up on Rizzoli & Isles
Law & Order: SVU's Mariska Hargitay will return
Major drama on Major Crimes: The inside scoop
Photo Credit: Jan Thijs/TNT