Disney takes flight
If you liked Cars, you're going to love Planes. It's Disney's newest animated film and tackles the world of aviation. Dane Cook leads an all-star cast that includes Julia Louis-Dreyfus and Teri Hatcher.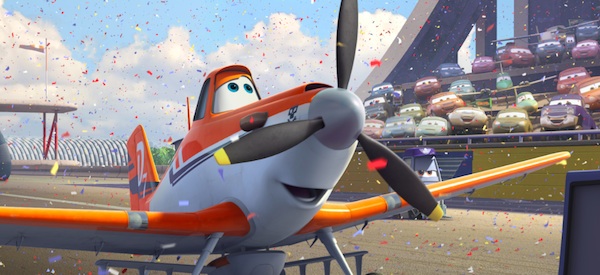 Synopsis
Dusty Crophopper (Dane Cook) is a plane that dreams of being a high-flyer. The only thing standing in his way is his fear of heights. Dusty turns to a seasoned naval aviator for help so he can compete in an aerial race. He hopes to beat the reigning champion so he can become the new king of the circuit.
Cast and characters
Dane Cook as Dusty Crophopper
Julia Louis-Dreyfus as Rochelle
Brad Garrett as Chug
Stacy Keach as Skipper
Teri Hatcher as Dottie
John Cleese as Bulldog
Anthony Edwards as Bravo
Val Kilmer as Echo
Check out more of our Planes coverage
Watch the trailer
Buy or pre-order your tickets below
Disney's Planes opens in theaters Aug. 9.
Photo credit: Disney