Welcome to Downworld
The Mortal Instruments: City of Bones reveals New York City's hidden society. The supernatural thriller stars Lily Collins as our only hope against mysterious creatures of the night.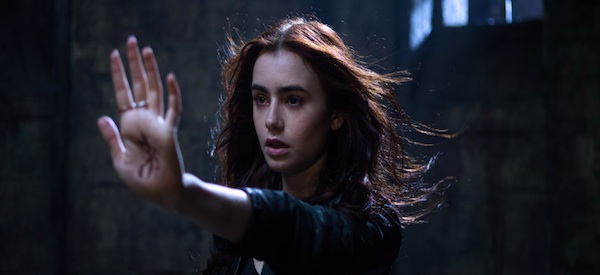 Synopsis
On the surface, Clary Fray (Lily Collins) looks like a normal teenager living in New York City. But underneath, she's a descendent of a long line of warriors called Shadowhunters. They're a secret organization of half-angels who seek and destroy demons. After her mother (Lena Headey) goes missing, Clary joins forces with the group and is exposed to the dangerous Downworld. It's the supernatural underbelly of the city that's filled with demons, warlocks, vampires, werewolves and more.
Cast and characters
Lily Collins as Clary Fray
Jamie Campbell Bower as Jace Wayland
Jonathan Rhys Meyers as Valentine Morgenstern
Lena Headey as Jocelyn Fray
Kevin Zegers as Alec Lightwood
Aidan Turner as Luke Garroway
Jared Harris as Hodge Starkweather
More of our Mortal Instruments: City of Bones coverage
Watch the trailer
Buy or pre-order your tickets below
The Mortal Instruments: City of Bones opens in theaters Aug. 21.
Photo credit: Sony Pictures