Pedal to the Metal
Getaway is an action-packed thriller that pairs Ethan Hawke with Selena Gomez. The unlikely duo is in a race against time to rescue his wife from a madman.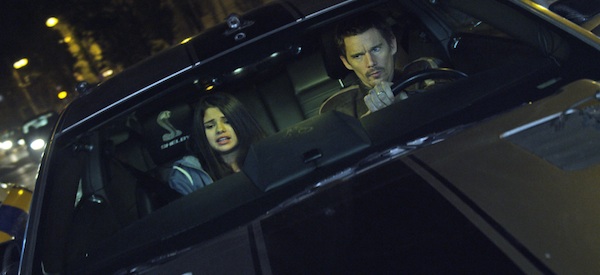 Synopsis
Former race-car driver Brent Manga (Ethan Hawke) has been thrust into a do-or-die situation. His wife has been kidnapped by someone who's watching his every move. His only ally is a young hacker (Selena Gomez) who's along for the dangerous ride. To save his wife, Brent must follow the orders of a mysterious voice that's attached to a camera on his car.
Cast and characters
Ethan Hawke as Brent
Selena Gomez as The Kid
Rebecca Budig as Leanne
Paul Freeman as The Man (voice)
Check out more of our Getaway coverage
Watch the trailer
Buy or pre-order your tickets below
Getaway opens in theaters Aug. 30.
Photo credit: Warner Bros.