Sci-fi class warfare
District 9 director Neill Blomkamp is heading to the future for Elysium. With the aid of Matt Damon, he'll tackle class and environmental issues with this sci-fi action flick.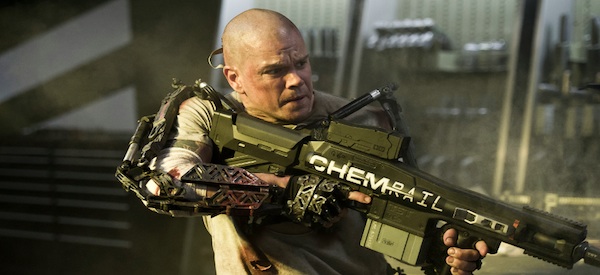 Synopsis
In the future (2154 to be exact) society will be split into two classes: the wealthy and the rest. The wealthy can afford residency on a private space station called Elysium. The rest are forced to live on the overpopulated and heavily polluted Earth. One of those unfortunate souls is Max (Matt Damon), a man desperate to board Elysium. In order to do so, he has to bypass Secretary Rhodes' (Jodie Foster) hard-line forces. If he succeeds, he could save his life as well as millions of others.
Cast and characters
Matt Damon as Max De Costa
Alice Braga as Frey
Jodie Foster as Secretary Rhodes
Faran Tahir as President Patel
William Fichtner as John Carlyle
Sharlto Copley as Kruger
Diego Luna as Julio
Check out more of our Elysium coverage
Watch the trailer
Buy or pre-order your tickets below
Elysium opens in theaters Aug. 9.
Photo credit: Sony Pictures