Ride for What's Right
Johnny Depp is going to war in Disney's The Lone Ranger. He and Armie Hammer star as legendary heroes in this big-screen adaptation of the classic.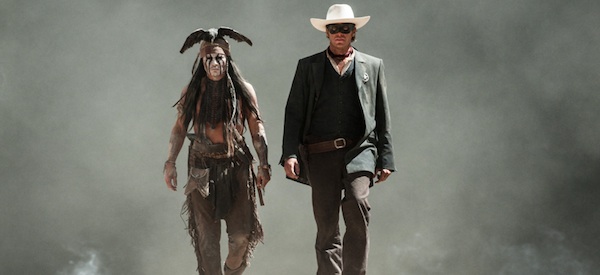 Synopsis
Johnny Depp and Armie Hammer have big shoes to fill in The Lone Ranger. Hammer plays the title character while Depp stars as his partner, Tonto. The latter is a Native American spirit warrior who aids the Ranger in his fight for justice. It's a combination of action and humor that brings out Depp's best.
Cast and Characters
Johnny Depp as Tonto
Armie Hammer as John Reid/The Lone Ranger
William Fichtner as Butch Cavendish
Helena Bonham Carter as Red
Barry Pepper as Captain Jay Fuller
Tom Wilkinson as Latham Cole
Ruth Wilson as Rebecca Reid
Check out more of our Lone Ranger coverage
Watch the trailer
Buy or pre-order your tickets below
The Lone Ranger opens in theaters July 3.
Photo credit: Disney