Haunting in Harrisville
Despite the season's kiddie fare, a supernatural thriller has slipped through the cracks. The Conjuring is the terrifying tale of a mysterious force that terrorizes a family.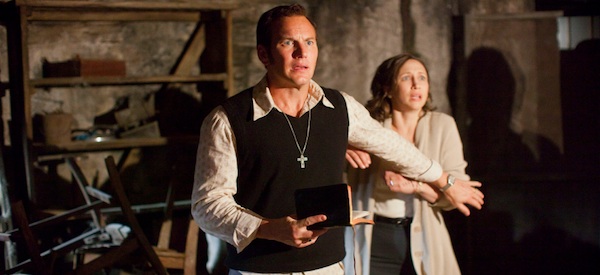 Synopsis
Before The Amityville Horror, there was the trouble in Harrisville. Based on a true story, The Conjuring follows world-renowned paranormal investigators Ed and Lorraine Warren (Patrick Wilson and Vera Farmiga). The couple is called to rid a family of a dark demonic force. Confronting the supernatural entity will push the Warrens to their personal and professional brink.
Cast and Characters
Vera Farmiga as Lorraine Warren
Patrick Wilson as Ed Warren
Ron Livingston as Roger Perron
Lili Taylor as Carolyn Perron
Joey King as Christine
Mackenzie Foy as Cindy
Check out more of our Conjuring coverage
Watch the trailer
Buy or pre-order your tickets below
The Conjuring opens in theaters July 19.
Photo credit: Warner Bros.