The Dead Will Rise
Ryan Reynolds is tackling another comic book adaptation. This time, there's no spandex or super-powered rings. It's just him, a gun, and Oscar-winner Jeff Bridges.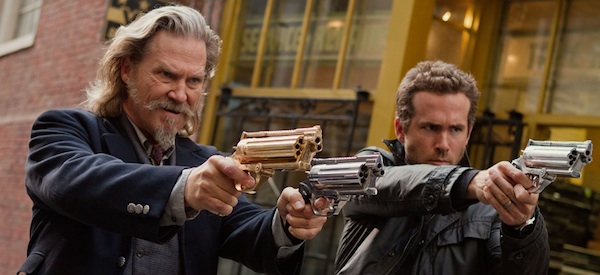 Synopsis
Nick Walker (Ryan Reynolds) is a recently deceased cop. In the afterlife, he joins the supernatural police forced known as the R.I.P.D. (Rest In Peace Department). He's partnered with the veteran Roy Pulsipher (Jeff Bridges) and goes on the hunt to find his killer. Based on the Dark Horse comic of the same name, R.I.P.D. is a mix of fantasy, horror, and fun.
Cast and Characters
Ryan Reynolds as Nick Walker
Jeff Bridges as Roy Pulsipher
Kevin Bacon as Bobby Hayes
Mary-Louise Parker as Proctor
Stephanie Szostak as Julia
Marisa Miller as Roy's Avatar
Mike O' Malley as Elliot
Robert Knepper as Nawlicki
Check out more of our R.I.P.D. coverage
Watch the trailer
Buy or pre-order your tickets below
R.I.P.D. opens in theaters July 19.
Photo credit: Universal Pictures