Hot Hunnam
to the Rescue
Guillermo del Toro is taking you on a wild ride with monsters vs. robots. Get your sci-fi fix with the epic tale of Pacific Rim.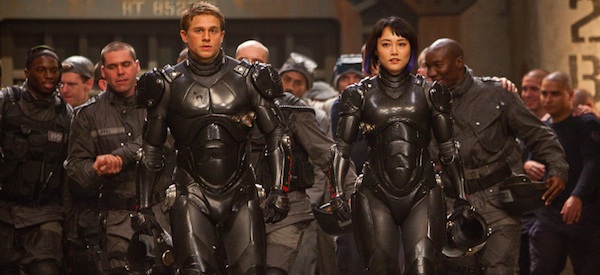 Synopsis
Pacific Rim is set in the throes of war. For years, Earth has been under attack by monstrous creatures called Kaiju. In response, humans built giant robots called Jaegers, which are piloted by two humans whose minds are linked. On the verge of defeat, Earth's army is forced to turn to the most unlikely heroes: a washed-up pilot (Charlie Hunnam) and an untested trainee (Rinko Kikuchi).
Cast and characters
Charlie Hunnam as Raleigh Becket
Idris Elba as Stacker Pentecost
Charlie Day as Dr. Newton Geiszler
Rinko Kikuchi as Mako Mori
Ron Perlman as Hannibal Chau
Clifton Collins Jr. as Tendo Choi
Check out more of our Pacific Rim coverage
Watch the trailer
Buy or pre-order your tickets below
Pacific Rim opens in theaters July 12.
Photo credit: Warner Bros.