Bullock and
McCarthy Team up
Sandra Bullock is playing an FBI Agent… again. The Oscar-winning actress joins forces with Melissa McCarthy for The Heat. Directed by Paul Feig (Bridesmaids), it's sure to be one of the funniest films of the summer.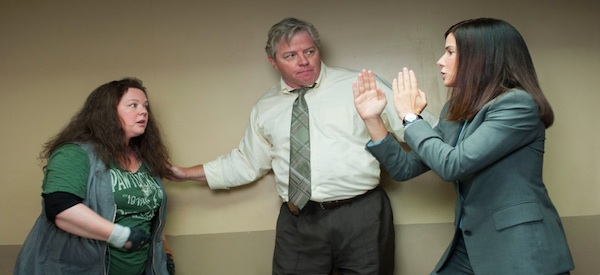 Synopsis
The Heat is the odd couple for a new generation. FBI Special Agent Sarah Ashburn (Sandra Bullock) is a straight-laced investigator with a pristine reputation. Boston P.D.'s Shannon Mullins (Melissa McCarthy) is the exact opposite. She has a foul mouth that's only surpassed by her street smarts. The women become partners to bring down a ruthless and deadly drug lord.
Cast and characters
Sandra Bullock as Special Agent Sarah Ashburn
Melissa McCarthy as Det. Shannon Mullins
Demián Bichir as Hale
Marlon Wayans as Levy
Michael Rapaport as Jason Mullins
Taran Killam as Adam
Michael McDonald as Julian
Check out more of our Heat coverage
Watch the trailer
Buy or pre-order your tickets below
The Heat opens in theaters June 28.
Photo credit: 20th Century Fox