Mr. Tatum Goes to Washington
Channing Tatum and his tank top are on a mission. White House Down has him channeling his inner Bruce Willis as he fights to protect the most important man in the world.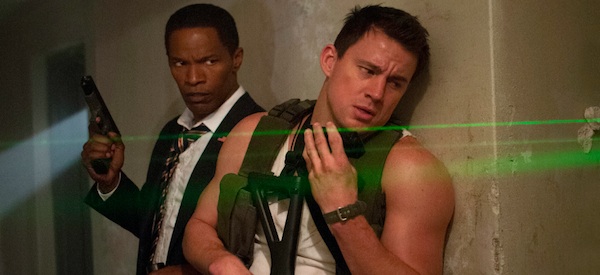 Synopsis
Master of disaster Roland Emmerich returns to theaters with White House Down. When the nation's under attack by a paramilitary group, Officer John Cale (Channing Tatum) becomes President James Sawyer's (Jamie Foxx) only line of defense. With little to no help, he fights to save countless White House visitors, including his daughter (Joey King).
Cast and characters
Channing Tatum as John Cale
Jamie Foxx as President James Sawyer
Jason Clarke as Emil Stenz
Maggie Gyllenhaal as Carol Finnerty
James Woods as Martin Walker
Richard Jenkins as Eli Raphelson
Joey King as Emily Cale
Battle of the Flicks: White House Down vs. The Heat
Check out more of our White House Down coverage
Watch the trailer
Buy or pre-order your tickets below
White House Down opens in theaters June 28.
Photo credit: Sony Pictures