Brad Pitt's
Zombie Invasion
Zombies are taking over and Brad Pitt is humanity's last hope. This June, the actor headlines the horror film World War Z, which features man vs. flesh-eating monsters.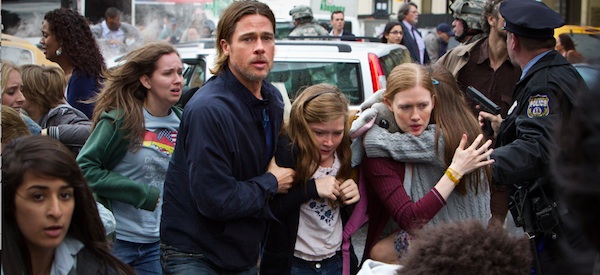 Synopsis
This summer, director Marc Forster brings us the big-screen adaptation of World War Z. Based on Max Brooks' popular novel, the film follows Gerry Lane (Brad Pitt) and his family as they struggle to survive the zombie apocalypse. Pitt not only stars in but also produces the film through his Plan B Entertainment.
Cast and characters
Brad Pitt as Gerry Lane
Mireille Enos as Karen Lane
James Badge Dale as Capt. Speke
David Morse
Check out more of our World War Z coverage
Watch the trailer
Buy or pre-order your tickets below
World War Z opens in theaters June 21.
Photo credit: Paramount Pictures