Superman Comes Home
Superman gets a makeover in Zack Snyder's Man of Steel. In this revamped origin story, actor Henry Cavill gives an earnest portrayal of the legendary hero.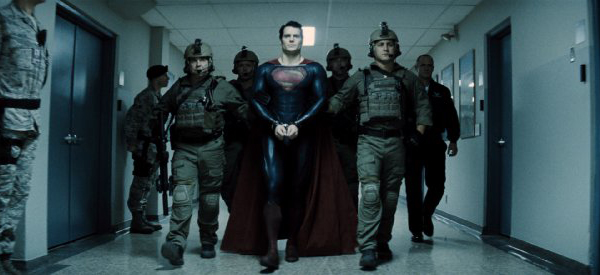 Synopsis
Seven years after Superman Returns, Warner Bros. has rebooted the franchise. With director Zack Snyder at the helm and Christopher Nolan producing, Man of Steel revisits the hero's origin. As Clark Kent (Henry Cavill) struggles with his alien roots, he's forced to battle two other surviving Kryptonians: General Zod (Michael Shannon) and Faora (Antje Traue). Man of Steel examines what it really means to hold the world on your shoulders.
Cast and characters
Henry Cavill as Superman/Clark Kent/Kal-El
Amy Adams as Lois Lane
Michael Shannon as General Zod
Russell Crowe as Jor-El
Kevin Costner as Jonathan Kent
Diane Lane as Martha Kent
Laurence Fishburne as Perry White
Antje Traue as Faora
Check out more of our Man of Steel coverage
Watch the trailer
Buy or pre-order your tickets below
Man of Steel opens in theaters June 14.
Photo credit: Warner Bros.