Closet Yogi Alert!
Between his band's hit songs and his choice gig as a judge on The Voice, Maroon 5's Adam Levine has never been hotter. But how well do you really know the talented (albeit self-deprecating) singer?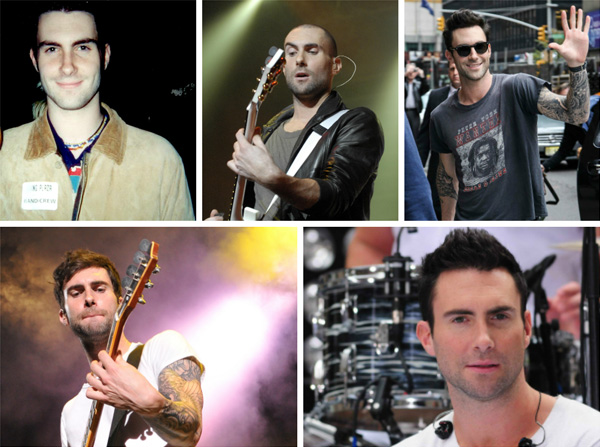 Adam formerly kept his trim physique by lifting weights — before breaking his sternum during a particularly intense sweat sesh. After turning to yoga, he became an unlikely addict. He's a daily devotee and, uh, we're guessing nightly, too: "I'll tell you what yoga is good for," he told Details, "fuuuu**-ing."
There's no doubt Adam logs some major mileage when he's on tour, but he won't be getting any frequent flier points anytime soon. "I hate flying," he said. "Know why? Because no one really understands how planes actually work." As such, he relies on biodiesel-powered buses while jaunting across the country from venue to venue.
Ever wonder if the "Jane" from Maroon 5's debut album Songs About Jane is a real person? She totally is. Adam's ex-girlfriend and the muse behind the album, Jane only recently reconciled with her former flame — they assert that they are "good friends" today.
When it comes to reality TV, Adam doesn't mince words. "It's just a bunch of f***ing a**holes who are fame whores," he told The Hollywood Reporter. We're going to assume he meant outside of The Voice, of course. After all, it's unlikely he'd say anything that might hurt his bromance with buddy Blake Shelton!
9021-O…MG! Did you know Adam appeared on an episode of the famous ZIP code-oriented Beverly Hills high school melodrama? At the time, he was in his late teens, and his band still went by its original name — Kara's Flowers.
During the days of Kara's Flowers, Adam did what he had to do to earn a dollar. His gigs included being a waiter at Johnny Rockets and working as a writer's assistant for the TV series Judging Amy — the latter of which likely made his uncle, renowned journalist and editor Timothy Noah, proud.
The Maroon 5 singer enjoys fashion, a trait he must have inherited from his father, Fred Levine. Fred founded Los Angeles-based clothing boutique M. Fredric — although we're going to guess daddy-o sells more than just the raggedy white tees Adam so often sports.
His face sure appears damn near perfect now, but 'twasn't always so. Of signing an endorsement deal as a Proactiv spokesperson, the lead singer explains, "I suffered acutely from acne, so I was like, "F*** it, I'll do it."
Don't be bringing any clutter onto his tour bus — or into his minimalist home, for that matter. "I don't own anything," the Zen Master, as his bandmates dubbed him, told VH1. "I'm into clothes, and that's basically it."
The cutie got his first kiss courtesy of summer camp. He was 11, and the object of his affection was fellow camper, Katie. "We walked 10 feet west of the cafeteria, which felt like forever," he told Elle. "She went in for the kiss. I was freaked out and amazed. Then it got weird, once I got comfortable and started experimenting.
Photo credit: WENN.com