(page 2 of 2)
Gatsby Trivia
Between Baz Luhrmann's movie of The Great Gatsby starring Leonardo DiCaprio, which is out now, and the myriad of books out this spring starring the glamorous Zelda Fitzgerald, Gatsby fever is sweeping the nation. Whether you loved the book before it blew up or recently read it in preparation for the movie, get yourself psyched for F. Scott's best-known work with our super-fun The Great Gatsby trivia quiz. Questions are on the previous page.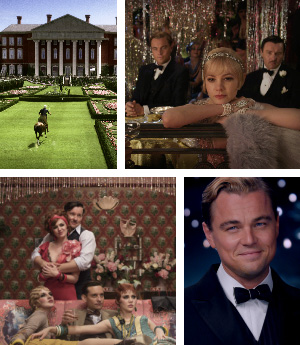 1
Which character is given this advice? "Whenever you feel like criticizing anyone," he told me, "just remember that all the people in this world haven't had the advantages that you've had."
Nick, from his dad
2
Where is Nick from?
The "Middle West"
3
Where do Nick and Gatsby live?
West Egg
4
How is Nick connected with the Buchanans?
Daisy is his second cousin once removed, and he knew Tom in college.
5
At their first dinner together at Daisy and Tom's home in East Egg, what does Daisy say that Nick reminds her of?
"A rose, an absolute rose"
6
What does Daisy hope for her daughter?
That she'll be "a fool... a beautiful little fool"
7
Why does Gatsby stare at the green light across the water?
The light is at the end of Tom and Daisy's dock
8
What looms above the road between West Egg and New York?
A billboard featuring the eyes of Doctor T.J. Eckleburg
9
What is Tom's girlfriend's name?
Myrtle
10
What does her husband do?
Buys and sells cars
11
What is the first rumor Nick hears about Gatsby?
That he is related to Kaiser Wilhelm
12
How does Tom react when his girlfriend insists on saying Daisy's name?
He hits her and breaks her nose.
13
How does Nick end up at Gatsby's party?
He is invited — a chauffeur brings him an invitation the morning of one of the parties.
14
What does Nick believe is his great cardinal virtue?
Honesty: He believes himself to be one of the few honest people he has ever known.
15
How do Gatsby and Daisy meet again?
Gatsby has Nick invite them both over for afternoon tea.
16
What is Gatsby's real last name?
Gatz
17
For what is Meyer Wolfsheim infamous?
Fixing the 1919 World Series
18
What color is Gatsby's car?
Yellow
19
Who was driving the car that killed Tom's girlfriend?
Daisy
20
Besides Nick and Gatsby's father, who shows up at the funeral?
The man with the owl-eyed glasses
Scoring system
0–5: Brutish Tom Buchanan
6–10: Cheating Jordan Baker
11–15: Delightful Daisy Buchanan
16–20: The Great Gatsby himself
More on The Great Gatsby
The Great Gatsby character posters
The Great Gatsby–inspired recipes and party ideas
The Great Gatsby soundtrack sampler
Photo credits: Warner Bros.