Danica talks motherhood and math
SheKnows Girl Crush of the Month Danica McKellar talks to us about being a mom and tells us how she's encouraging young women to show off their most attractive attribute: intelligence.
You probably remember her as Fred Savage's longtime love interest Winnie Cooper during her youth on the hit show The Wonder Years. But Danica McKellar is so much more than your average actress.
While filming, she also put herself through college, majoring in mathematics. At 38, McKellar is still acting, but also pursuing a more altruistic goal: inspiring young women to seek careers in male-dominated fields like math.
The best-selling author has four books aimed at making the subject fun for young women. With titles like Kiss My Math, Hot X: Algebra Exposed, and Girls Get Curves, Danica is showing that numbers can be sexy. In addition, she's a full-time mommy to her 2-year-old son Draco and an experienced yogi.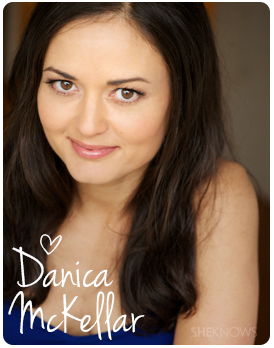 Photo by: Cathryn Farnsworth
Find out a ton of other reasons why we love this woman in SheKnows Girl Crush.
Watch Girl Crush now
---
Girl Crush Quickie:
SheKnows: What is one weird thing that most people don't know about you?
Danica McKellar: I hold a palindrome contest on my Twitter account every Thursday: @danicamckellar
SK: What is your favorite book (besides your own, of course)?
DM: The Seven Spiritual Laws of Success by Deepak Chopra.
SK: What is your favorite children's book?
DM: Goodnight, Goodnight Construction Site.
SK: Who is your male celeb crush?
DM: George Clooney.
SK: Who is your Girl Crush?
DM: Kristen Wiig.
---
Photo Credit: Cathryn Farnsworth