Bradley Cooper's
A Mama's Boy
If you want to date Bradley Cooper, be prepared for a third wheel at the breakfast table: His mom.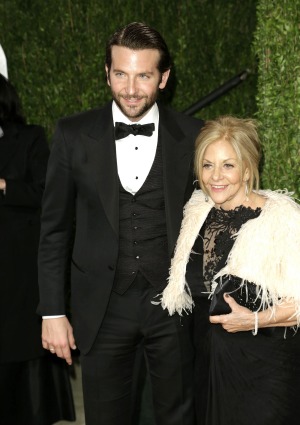 Bradley Cooper is one of the hottest actors in Hollywood today, but that doesn't mean he doesn't need his mama anymore. In fact, he needs her so much that he still lives with her!
Cooper told Details that the death of his father in 2011 shook them to the core, and he and his mom Gloria became roomies as a way to deal with their grief.
"The best way I can answer that is to say we're [my mom and I are] surviving," he told the mag. "Both of us. Let's face it: It's probably not easy for her, by the way, to be living with her son. It's life. And right now, two years after my father's death, this is where we are."
"My family is very close, and my dad dying was brutal for all of us," he explains. "It was a schism, and its aftershock has not stopped. And we need each other. So here we are."
"But don't get me wrong. It's not without complications," he added. "It's not like I live in a compound and she's in the guesthouse. No. She's in the next room. But here's the thing: She's a cool chick. We can hang, and she can roll with the punches. If that wasn't the case, there's no way."
Those complications may involve mommy dearest getting involved in her son's love life. A source told Radar Online in February that Gloria was instrumental in preventing another reunion between her son and two-time ex Zoe Saldana.
"Gloria tried to get to know Zoe when they rekindled their romance, but she still didn't think she was a good fit for him," the insider revealed.
"So, when Zoe and Bradley started talking to one another again, she told Bradley that their relationship failed twice already, what's the point of going through all of that again?"
"Like all moms, Gloria is very protective of her son, and gets to know his girlfriends well. She approved of Renee Zellweger and they are still friends to this day. But she just didn't click with Zoe, found her a little difficulty to get to know, and it seemed like Zoe was perhaps a little intimidated by her," explained the source.
"You do have to wonder if Bradley will ever find a girl that is perfect for him and his mom!"
Read the complete interview with Bradley Cooper in the May issue of Details.
Image courtesy Brian To/WENN.com