(page 3 of 3)
Dress like Joan Harris, think like Don Draper
Our buddy over at eHarmony sat down and dissected Mad Men to offer up a little dating advice for all our lovely, single readers. It's nice to know what men are thinking, but we've got to be true to ourselves. One of our writers also chimed in for a little "he said, she said" dating advice. Enjoy!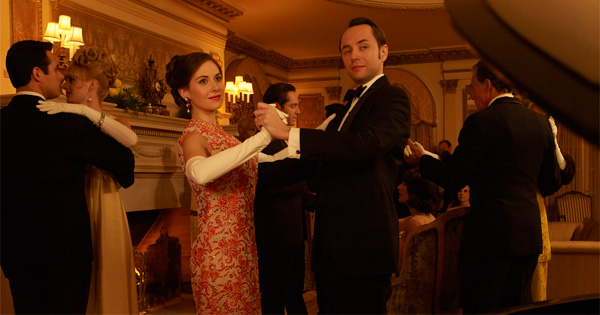 Fashion
He said:
If there's one thing Mad Men excels at, it's looking good. For a fringe show on an obscure basic cable U.S. channel, Mad Men has caused something of a style renaissance, changing the way the fashion world thinks about clothes and trends, and if nothing else reigniting a love of thick-rimmed glasses, narrow ties and slicked-back hair.
There are plenty of handy dating fashion tips to glean from watching Mad Men.
Gents:
Aim for simple, tailored, well-fitting suits, soft and thick at the shoulders/chest, but tapered at the waist — a classic "American" suit.
Be sure to include a small, smart, white line of linen in the pocket square.
Never deviate from a standard white shirt.
For a truly authentic '60s look, consider a smart felt fedora, though only worn outdoors — a gentleman should always remove his hat when he arrives at the office.
Quiz
Are you a Megan or a Betty? Take our quiz to determine which Mad Men character best matches your personal style.
Ladies:
Aim for elegant, curve-hugging dresses — or, as the series makes its way through to the late '60s, miniskirts with bright, bold colors.
Consider a cute vintage felt or straw hat to match.
Complete the look with kitten heels.
Head to Banana Republic, who boasts a Mad Men "capsule collection" for the authentic look.
Sometimes a jacket and tie can be a little too formal, especially for a first date, and tastes have since diversified beyond suit-for-formal, polo-shirt-for-casual. And even Don Draper himself is not always dapper — it's safe to say that checked jackets left the realm of what is cool a very long time ago.
She said:
That's tough. Mad Men has spent the first five years of its existence in a rather buttoned-up world, whereas the vast majority of situations in our generation have become far more informal. Have you been to the opera lately? It's a mess.
I do think there's something to learn from Joan, though. The girl is curvaceous and sexy, but she's never spilling out of her top or baring more of her flesh than she covers up. A little sex appeal goes a long way.
As for miniskirts: Really, John? When you see a miniskirt-clad girl, are you thinking you want to get up her skirt or put a ring on her finger? Ladies, there's nothing wrong with a miniskirt, just keep it at mini and not micro-mini. A** cheeks are for the shower, yard work in cutoffs and sexy bathing suit mishaps. And, unless you're built like Megan Draper, take heed of what you pair it with on top. Also, ladies, you know better: No kitten heels. Ever.
Finally, if your date is to a Mets game: All those rules are out. It's time to buy a fitted T-shirt or tank top to support the team. After all, even Don sheds his suit from time to time — and I'm not talking about that ill-advised checked jacket (Megan seriously needs to reign him in). Plus, you can't wear a suit or Joan's sleek skirts to the beach!
About the He and the She
He is: John Nugent is a freelance writer, journalist and blogger living in London, writing about films, music, pop culture and technology. He has written for Little White Lies, Film4.com, The Skinny, Moviescope Magazine and many others. He is obsessed with Mad Men and overly forgiving of Don Draper's relentless deviancy.
She is: Deirdre Kaye is our Television Editor, freelance music writer and drinking game enthusiast. As a Mad Men fan, she's spent five season waiting for Joan and John to end up together. She's never met John but she's spent the last few days imagining he looks like Don Draper and sounds like Lane Pryce. Don't ruin things by telling her otherwise.
They think: eHarmony was absolutely brilliant in their decision to contact SheKnows about this article. We're always game for helping out our single sisters. Plus, we're always happy to introduce you to a smart, opinionated piece of man candy like John.
All images courtesy of AMC
More on Mad Men
Spoilers? Historical events to inspire Mad Men
Mad Men Season 6 premiere recap
Play Mad Men Bingo with us!