(page 2 of 3)
Dress like Joan Harris, think like Don Draper
Our buddy over at eHarmony sat down and dissected Mad Men to offer up a little dating advice for all our lovely, single readers. It's nice to know what men are thinking, but we've got to be true to ourselves. One of our writers also chimed in for a little "he said, she said" dating advice. Enjoy!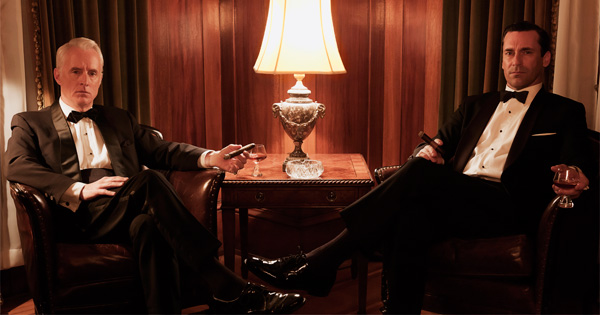 Social habits (drinking and otherwise) 
He said:
A love of fine whiskey can always be encouraged, though perhaps not to the extent nor at the pace of the Mad Men, who think nothing of opening a bottle around breakfast, lunch or dinner, during important meetings, weddings or funerals — any time of the day, really. In moderation, a sip of a fine Bourbon or Scotch suggests manliness and a refined taste, and is bound to impress your date.
The Mad Men love to smoke — with Lucky Strike as their biggest client they practically have to. But times have definitively changed since the '60s in this regard, and smoking is not the standard practice it once was. Lighting up on a first date is probably a bad move, and smoking in general is probably not a smart move, as Roger Sterling discovered when he suffered a nasty heart attack.
She said:
If you like to drink, go for it. But keep in mind that no one is ever sexy when they're drunk. Have you ever seen Joan stumbling around or slurring her words? Was a drunk Betty ever an attractive Betty? No. The ladies of Man Men are always at their sexiest with just one drink in hand.
As for what's in the glass: Drink whatever you want. However, guys usually seem impressed with a girl who can swig Scotch. Don Draper always offers his girls a whiskey neat and it comes across as some sort of test. Can you throw back Canadian Reserve with him without making an ugly face?
Smoking: Smoke at your own risk. But keep in mind that while it seemed sexy to all men back in the '60s, it may only attract certain types of guys now. Is that the type of gent you want?
Up next: More Mad Men dating advice >>