2012–2013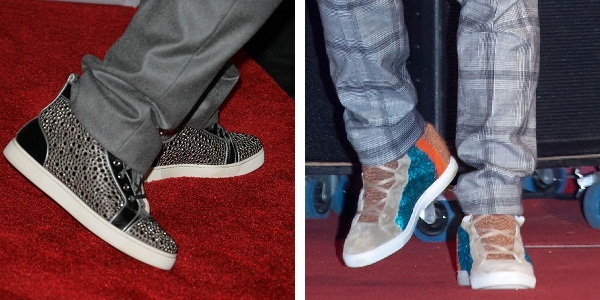 Our man Bob (we don't actually have permission to call him that) has some serious swagger. The 48-year-old is father to the adorable Indio, age 19 — and baby Exton! — but it's not just moms who swoon over the superhero detective. Teens are crushing hard on RDJ, too! He's funny, has a lady-friendly résumé and a very youthful spirit that starts with those expressive brows and goes all the way down to his shoes. In the last year alone, he's sported black- and silver-studded Christian Louboutin "Louis Strass" kicks (estimated at around $2,500) at the People's Choice Awards (where he won for Favorite Movie Superhero) and some turquoise-and-orange Marc Jacobs high-tops at The Avengers premiere. The latter came at the bottom of some fairly loud dress pants, too. Could this style work on anyone else? Probably not.
2010–2011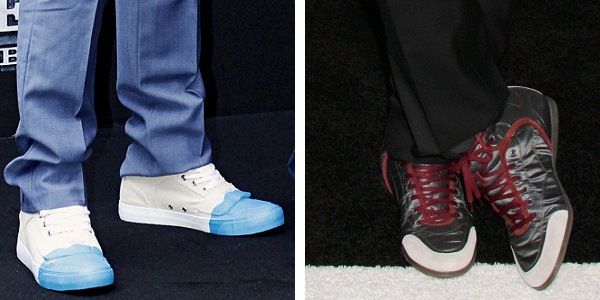 His flashy footwear isn't a new fad. It goes back pretty far! Our personal favorite happened back in 2011, at the Sherlock Holmes: A Game of Shadows premiere. His buddy/director Guy Ritchie wore boring brown dress shoes. Meanwhile, our yummy piece of man candy rocked some white sneakers that looked like they'd had the toes dipped in teal paint. While all the fashion police thought the shoes were unacceptable for a red carpet, we think they're pretty great. The black leather shoes he wore to the Due Date premiere were pretty tame for RDJ, even with the white caps. We guess he added the burgundy laces to help jazz 'em up!
More of 2010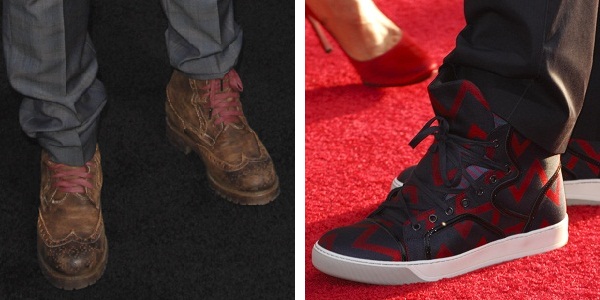 The year 2010 was a busy one for Downey. When he hit up the Splice premiere with his buddy Adrien Brody, he opted for a little comfort in brown hiking boots. They wouldn't seem particularly wild out and about and with jeans. But with suit pants tucked into the tops for a red carpet premiere, they definitely caught our attention. It may have been a fashion faux pas, but we loved them. Plus, he made up for it earlier in the year when he wore the Lanvin "Zig Zag" high-tops ($835) to the Iron Man 2 premiere.
2009 (Not his best year?)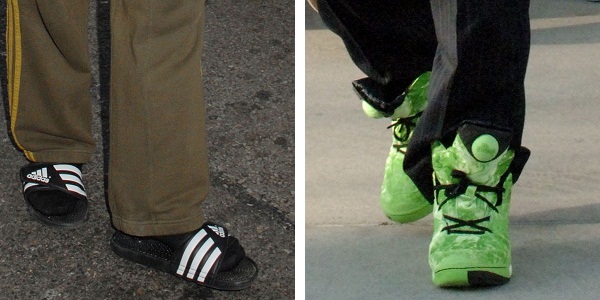 Junior must have hit a fashion rough patch in 2009. First, he was caught leaving Claridges Hotel in Adidas slip-ons and socks. Honestly, we're just glad they were black dress socks instead of white athletic socks. Still a rough choice, but not quite as noticeable. Later, he was spotted in a set of lime-green fuzzy sneakers. Our first thought: Were these made from the hide of a St. Patrick's Day teddy bear won from one of the claw machines? They're loud and... odd. But, we give RDJ props for being his normal, funky self!
The early years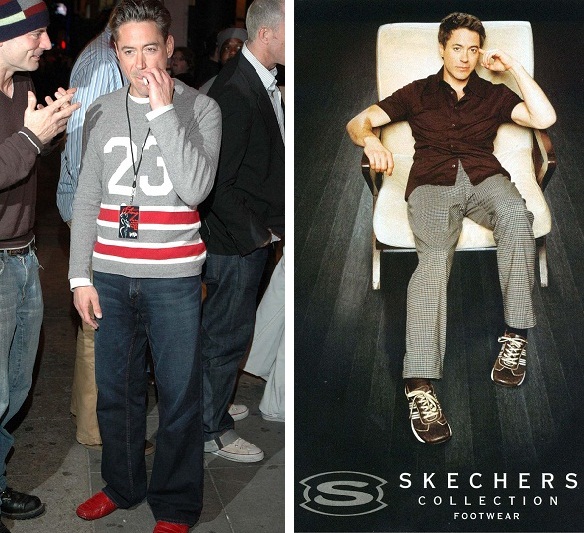 In the early 2000s, RDJ saw some dramatic changes. Namely, he finally shook his drug problem. Around that time is when he landed an ad campaign with Skechers shoes. While he may have always loved wild and crazy shoes, we like to think it was the Skechers ad that set him on the road to foot-fashion icon. A couple of years later, he had divorced and remarried and was spotted outside Roxy in a pair of bright red kicks.
We can't say exactly what caused RDJ's fashion and life turnarounds. All we can say is that we're certainly glad they happened. This year, Downey is turning 48, and we think he's looking better than ever. We can't wait to see him in this summer's Iron Man 3! Happy birthday, boy!
Images courtesy of Apega/WENN.com, Adriana M. Barraza/WENN.com, WENN.com, Maria La Torre/WENN.com, Nikki Nelson/WENN.com, Apega/WENN.com, Apega/WENN.com, WENN.com, Joe Leonard/WENN.com, Dimitri Halkidis/WENN.com and Skechers/WENN.com