I Believed I Could Win
By the time you read this, the final episode of The Face will have come and gone, and you will already know that I wasn't crowned the winner. But, as always, I am here to provide my thoughts on the episode and my feelings on being so close to taking the win...
(page 2 of 2)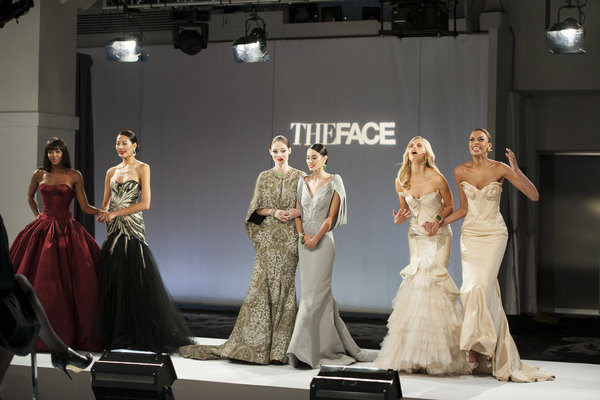 We were taken backstage and immediately prepped for the show. They slicked our hair back into elegant buns, threw a red lip on all of us and then we were dressed in our fitted Zac Posen one-of-a-kind gowns. It was like being a princess who was about to go to the ball. There are no words to describe how I felt standing backstage, dressed in couture with three of my modeling idols and two other girls just like me who were realizing this was a dream come true. Coco was giving me last minute tips for the runway and we were goofing off trying to relax before the show. It was a blast. I didn't want it to end, but the show had to start.
First out were the coaches — Karolina, then Coco and lastly Naomi. It was amazing to see them walk the runway. It was obvious that that's what they were meant to do. They looked flawless and glowed with that supermodel presence, but then it was our turn. Like her mentor, Devyn went first. She looked tall and elegant in her Champagne-colored ensemble.
I went next, working my dress the way Zac had told me to and flaunting it with a hint of a smirk that Coco suggested just seconds before stepping out onto the runway. It felt amazing. All the negativity I had heard over the past weeks melted away and I transformed into this confident woman right before everyone's eyes. I knew in that moment that even if I didn't win, I had grown and changed and that I was ready to take on anything.
Zi Lin went last and, while her expression might night have been as strong as Devyn's or mine, her walk was beyond amazing. That girl slinked down the runway like an exotic panther. Nothing was going to stop her.
At the end, we did a final walkthrough with our mentors, and just as I was getting to the end of the runway, Coco ran up behind me and grabbed my hand. It was a surreal moment and a perfect way to close the show. I believed in myself and I could tell she believed in me too. We thought we might have actually won the whole thing.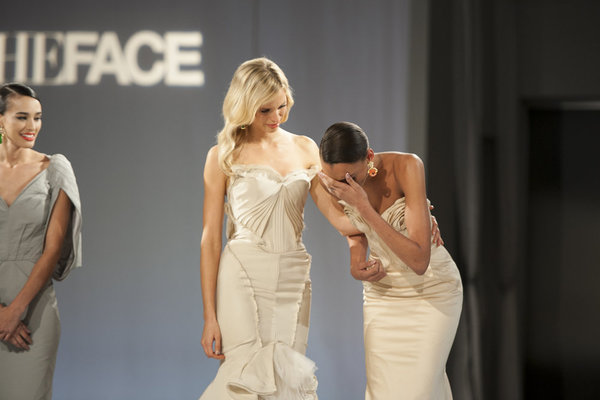 The six of us lined up on stage in front of the Ulta representatives and Nigel. Each coach held their girl's hand — some of them were probably even praying. This was the moment someone's life was going to change forever. Carrie announced, "The person who is going to be the face of Ulta Beauty is…" My heart was pounding in my chest. I looked at Coco and just waited for my name to be called — hoped that my name would be called. I had to believe I could win. But at last, she called out "Devyn" and it was all over.
I can honestly say I was relieved. I didn't have to stress anymore, and I was genuinely happy for Devyn. She deserved to win. She's beautiful and talented. Being a single mom while working three jobs is not the ideal lifestyle for becoming a successful model, so this was her chance. I knew then and I still know that I will go on to be successful. It just won't be as the face of Ulta Beauty. But with all I learned from Coco and the other coaches, I know I will be the face of something else.
I have to give one last thank you to Coco Rocha for all she has done for me. It was a dream come true to meet her. I've had the opportunity to work with her after the show finished filming and she has done more for me than anyone can ever know. She is my mentor, but she is also my friend and I know she will be in my life for a long time. She is my biggest fan and I know she wants me to succeed — and I already have in so many ways.
I am currently working in New York. I've recently signed with Wilhelmina (same agency as Coco), where I've since booked a Target campaign and ironically shot Zac Posen's latest line for Moda Operandi, where I even got to don Coco's finale dress. My career has been better than ever and I owe a lot of it to The Face and especially to Coco Rocha.
Stay tuned. This isn't the last you will see of me.
Photo credit: NBC
Miss any of Margaux Brooke's blogs this season? Check them out here!
The Face's Margaux blogs: The claws weren't out yet
The Face's Margaux blogs: Christy should be ashamed to call herself a model