Parker Called Carrie Diaries Odd
Sex and the City author Candace Bushnell is very fond of The Carrie Diaries. And not too fond of Sarah Jessica Parker these days, sounds like.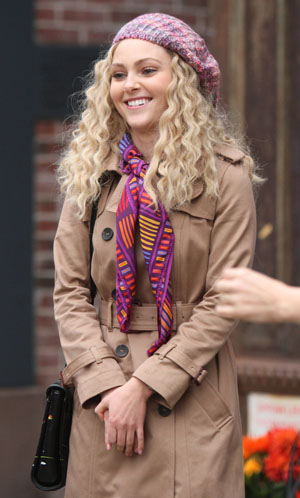 Sarah Jessica Parker called Sex and the City prequel The Carrie Diaries "odd" in an interview this month. Sex and the City/Carrie Diaries author Candace Bushnell didn't take kindly to that.
She implies that SJP's remarks are merely a reaction to seeing a younger version of herself on-screen. "The reality is, that's showbiz," Bushnell tells the Daily Beast. "Sarah Jessica's first part was somebody else's part. She played Annie on Broadway. She understands how these things work."
Despite a warm critical reception, The Carrie Diaries has not exactly been setting the world on fire, ratings-wise: The New York Post notes that an average of 1.5 million viewers tune in for each outing, and that it might not be renewed for a second season.
But Bushnell, who wrote the original Sex and the City column for the weekly newspaper the New York Observer, the 1997 book Sex and the City (which inspired the HBO series of the same name) and the 2010 young adult novel The Carrie Diaries (the precursor for the TV show), loves both The Carrie Diaries and its star, AnnaSophia Robb.
"It is a really good show!" Bushnell told the Daily Beast. "I love AnnaSophia. She just holds the screen."
Sometimes, Bushnell says, she's startled by how much Robb channels a young Carrie.
"Like, wow, that is in a sense a young Sarah Jessica Parker. I know we think of a young Sarah Jessica Parker as very different, because she was in Square Pegs. But if Sarah Jessica Parker had played a 16-year-old Carrie Bradshaw, I see the connection," she says.
As for Parker and the Sex and the City franchise, Bushnell has less flattering words. For one thing, she doesn't think there should be a third SATC movie.
"Look, Sarah Jessica Parker is 47," she says. "I think with the second movie, Carrie Bradshaw couldn't be an ingénue anymore. But I think they were stuck doing what the audience wanted. Realistically, a middle-aged woman who was married without children would be much more focused on her career and less focused on this Mr. Big: 'Does he love me?' ... 'Does he still not love me?' I mean, I think it was coming to the end of what they could do with the character."
Plus, the disastrous second SATC film shouldn't have left New York.
"If it were up to me, the second movie would have been Carrie Bradshaw decides to run for mayor and Samantha helps her," Bushnell says. "It would get into some real issues of what happens when you're part of a relationship and the woman is ambitious. What does that do to her relationship with Mr. Big? To me, that would be interesting. But they were not going to go there."
Bushnell also said it was unrealistic that Carrie-the-character would still be writing her newspaper column after 15 years. Yeah, she kinda has a point there.
Image courtesy Mr. Blue/WENN