So, Kim K Weighs 140 Pounds Now?
Kim Kardashian's weight gain has become the subject of much speculation in gossip reports. Is the pregnant reality star really up to 200 pounds now? That's more than a little off, the mom-to-be insists!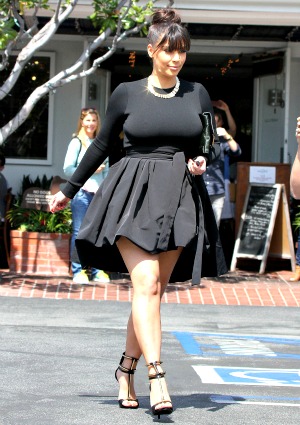 Kim Kardashian's pregnancy days continue to roll right on by, as the mom-to-be's shape transitions into full bloom. Naturally, her famous figure is changing and she's gaining weight — but not as much as some headlines tout!
Responding to weight gain speculation, Kim K told Extra over the weekend, "There are maybe two or three covers just this week that say I am 200 pounds. I'm like, 'You are 60 pounds off here!'"
"It wouldn't even bother me if I gained all the weight," she went on to insist, noting that pregnancy cravings haven't been much fun to indulge in as she's dutifully taking it easy. "I have the biggest sweet tooth and I love junk food. Being pregnant I don't like any of it."
"I'm waiting for the moments when someone's like, 'Let's go to McDonald's and Taco Bell!'" she joked. "That's not happening for me and I'm kind of sad about it."
"I'm not going to lie and be like, 'Oh, it's been amazing and I've adjusted great,'" Kim went on to share about coping with her harder-than-expected pregnancy. "At the beginning it was tough for me when your body changes so much, but once you kind of grasp that and embrace it, it's amazing."
Curious to find out if the parents-to-be will keep up with the Kardashian "K" name trend?
"I think it would be really cute because Kanye [West] and I are both K's, but half the names on our list aren't K's," Kim, seen here in Los Angeles on Mar. 22, explained.. "We still have time, [so we'll do] whatever feels right… Kanye being the father wants something that's unique."
Like North (yes, as in North West), perhaps? We think that would qualify!
Still, the weight gain speculation undoubtedly strikes a nerve for the reality star, who vented on a recent episode of Kourtney & Kim Take Miami she fears she's ruining Kanye West's reputation when she lands on a worst-dressed list.
"It's part of my job to look chic at all times," the 32-year-old explained while cameras rolled. "And as if Kanye has the time to dress me every day… I feel bad that Kanye gets the bad rap for dressing me. It's so rude."
What advice would you give to Kim Kardashian while she's under weight gain scrutiny?
Image via WENN