It's a boy!
SheKnows Girl Crush of the Month, Jamie-Lynn Sigler, shares her excitement over her pregnancy and impending nuptials, and reveals she's having a boy!
When we met up with the adorable Jamie-Lynn Sigler at Lovely Bride in West Hollywood, it was easy to see the actress was glowing with happiness. Understandably so! The 31-year-old Sigler started the year off with two life-changing announcements: first her pregnancy and then an engagement.
Sigler, best known for playing Meadow Soprano on The Sopranos for six seasons, just wrapped her first season of the NBC comedy Guys With Kids. Now the actress is turning her attention from a show about parenthood to the real-life experience of raising a child. She and fiancé Cutter Dykstra, an infielder for the Washington Nationals, just learned they are expecting a baby boy in August!
From the proposal to pregnancy woes to picking baby names, Sigler is sharing every detail of her exciting journey with SheKnows.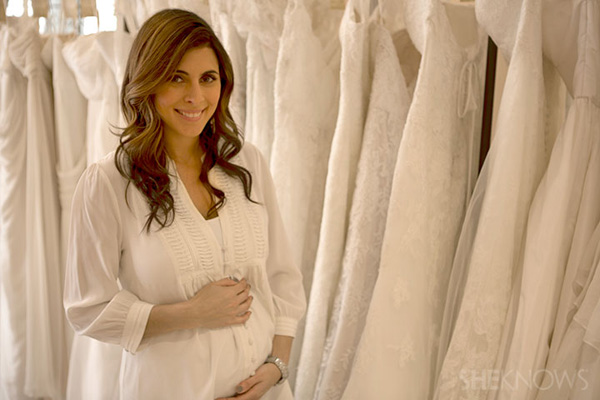 Girl Crush Quickie
What is your love motto?
Love is easy.
What is your must-have beauty product?
BECCA Shimmering Skin Perfector in Topaz.
What is the most important lesson your parents ever taught you?
Never go to bed angry. Cutter and I never do.
Favorite dessert?
Ralph's white-on-white sheet cake. I will have a grocery store cake at my wedding!
Favorite designer?
Vince for everyday wear. Skinnytees for maternity clothes (she's wearing one in our interview). Monique Lhuillier for a bridal gown.
Favorite flower?
Roses, all colors.
Dream honeymoon destination?
A girlfriend of mine actually went to three places on hers: an African safari, Seychelles, and Paris. That sounds amazing. I would love to do that.
Who's your girl crush?
Chrissy Teigen. She's really, really funny. You should follow her on Twitter.
Jamie-Lynn's wedding vision board