OK, so Cinco de Mayo isn't Mexican Independence Day (that's actually Sept. 16). It started as a celebration of the Mexican army's win over the French back in 1862. But who cares! I mean, do we really need an excuse for some margaritas and a backyard carne asada (that's a barbecue party for all of us who weren't so muy bueno in Spanish class)? No! We don't need an excuse.
Luckily, we have put together a Cinco de Mayo playlist that will make even the biggest wallflower get up and move his or her feet. And while these are the perfect tunes for a fiesta, you may just like them so much, they'll creep into your music selection all year round.
Los Lobos and Ritchie Valens
"La Bamba" is all about dancing. Translated, the song explains that in order to dance the bamba, you have to have a sense of humor, which is great if your amigos are anything like mine. So what are you waiting for? Get dancing. Arriba! Arriba!
Los Del Rio
Admit it. You know the whole dance. We don't judge. We know it too. "Macarena" was the "Gangnam Style" of the '90s.
Lou Bega
The dance called the mambo was developed in Cuba in the 1930s. According to the Social Security administration, Mary was the most popular girl's name in the 1930s, so it seems that Lou Bega did his homework. However, Monica, Erica, Tina and Jessica were not popular girl names in the 1930s, but "A little bit of Doris..." just doesn't have the same ring to it.
Bonus: "Quiero Que Me Quieras"
("I Want You To Want Me")
Gael Garcia Bernal from the Mexican comedy film Rudo y Cursi.
What's better than a Mexican movie star covering Cheap Trick? Nothing.
The complete playlist
But you're going to need a lot more songs than these to take your party into the night. From all across Latin America, here is our complete Cinco de Mayo playlist.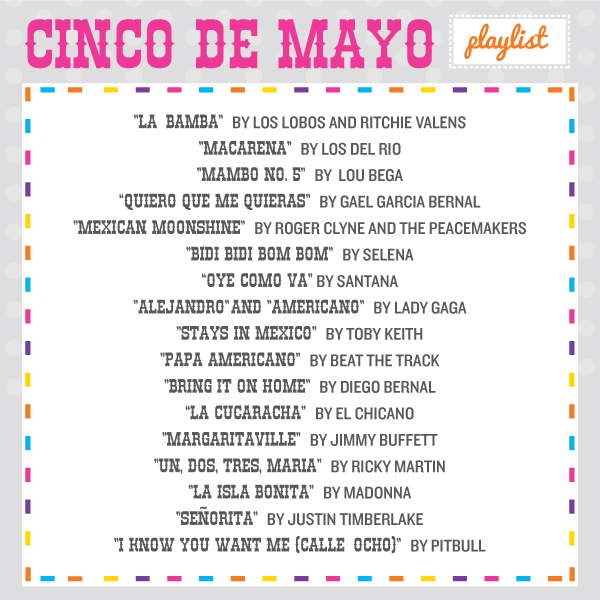 So what's on your Cinco playlist? Anything we've forgotten? Let us know in the comments.