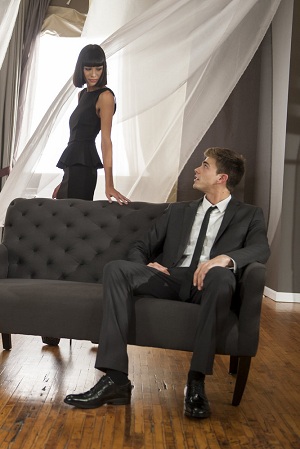 Tonight's episode starts with Jocelyn mentioning my eight years of modeling experience and that I have "plateaued" and have "no personality." Do I sense a theme arising? While I have been modeling for eight years on and off, I've also been going to school full-time. Modeling is my job, and I've been signed to professional agencies, including Elite and Wilhelmina, my entire adult career. I've been humble about the fact that I'm just another model among the hundreds of thousands out there, and that's why I came on this competition — to learn from the best.
This week is no different and starts with a test shoot, judged by Naomi Campbell. The theme is "chemistry," and Naomi demonstrates her skills in a Christian Louboutin ad with none other than Amar'e Stoudemire of the New York Knicks. It was steamy, if I do say so myself. I've worked with male models before, but it's only ever been cutesy, like "let's go on a mini golf date" type stuff. I was a little nervous for sure. I gave it my best, but it wasn't good enough for Naomi. I personally thought Devyn did a really good job, and I have to hand it to my girl Stephanie — she killed that test shoot. I was so proud to call her my teammate; she had all of our jaws on the floor after her little performance with Kyle, the male model.
Sandra chose a more "intimate" approach and actually kissed Kyle on the neck, which sent Naomi into complete hysterics to the point of the whole thing becoming uncomfortable to watch. I actually felt bad for Sandra. Sandra took Naomi's reaction personally and talked back to her mentor and eventually walked off the set. While Sandra's reaction was understandable, Naomi was right: she needs thicker skin. There are clients out there that will react similarly to Naomi and she has to learn to just brush that stuff off and keep working. In the end, Stephanie wins — congrats, girl. I'd be lying if I didn't say I was jealous — I've always wanted a pair of Christian Louboutins!
Photos courtesy of NBC
Up next: The campaign and elimination >>