From Babymooning
To Booze Bailing
Spring is known as the season of rebirth, so there's no time like this month to reinvent yourself. Take the SheKnows challenge and say "I do" in April to the following 10 ideas or activities.
(page 2 of 2)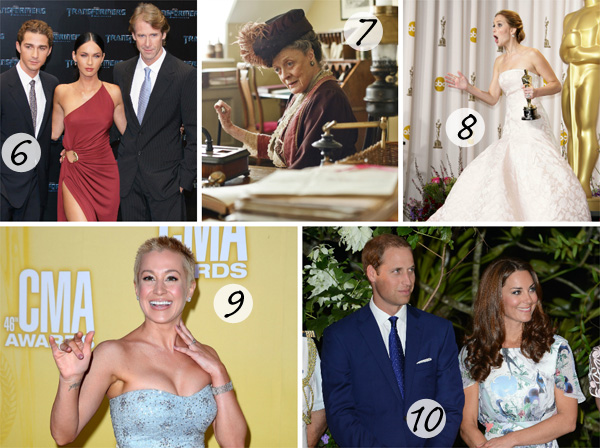 6
Bury the hatchet like Michael Bay and Megan Fox
Director Michael Bay and actress Megan Fox have been feuding since she starred in his first installment of the Transformers franchise, but the two have now made amends. She's starring in his upcoming reboot of the Teenage Mutant Ninja Turtles, titled just Ninja Turtles. Spring is a time for new beginnings, so give that thorn in your side a call and start fresh.
Photo credit: WENN.com
7
Join famous fan Kristen Bell and become a Downton Abbey addict
Who would have thought PBS' period drama about the aristocratic Crawley family would have taken the world by storm? But oh, how it has. If you've yet to be drawn in by the Brit hit, head on over to Netflix (like, now), and stick Seasons 1 – 3 of Downton Abbey at the top of your queue.
Photo credit: PBS via WENN.com
8
Walk it off like Jennifer Lawrence
When Jennifer Lawrence took a spill on the stage en route to accepting her Oscar, she recovered with major grace — she even joked about it. Embrace Lawrence's comical resiliency this month and don't let anything keep you down. What's that old adage? Oh yeah — fall down seven times, stand up eight.
Photo credit: Adriana M. Barraza/WENN.com
9
Make like Kellie Pickler and give dancing a whirl
Set to star in the upcoming season of Dancing with the Stars, country crooner Kellie Pickler will be boot-scooting her cute little booty all over the stage with three-time DWTS champ Derek Hough. Follow in Pickler's footsteps and give two-stepping a try — sign up for a local dance class or try an at-home video.
Photo credit: Judy Eddy/WENN.com
10
Go on a royal-couple-inspired babymoon (baby making optional)
Prince William and Kate Middleton opted to spend what may very likely be their last hurrah before their little one arrives by jetting off to Mustique. Whether you are celebrating a bun in the oven like this royally cute couple, are trying to get a bun in the oven or just want to get away, this month might just be the perfect time to escape on a sun-drenched trip.
Photo credit: WENN.com
Photo credit: Apega/WENN.com