And Then There Were 2...
This week's episode of The Face was very intense... Of course, it started out with a debate between Devyn and Ebony, regarding whether or not Stephanie could "handle" the competition. In my opinion, a competition is a learning experience, and while Stephanie may have had a larger learning curve, everyone should just be respectful and worry about themselves! Now, moving on...
(page 2 of 2)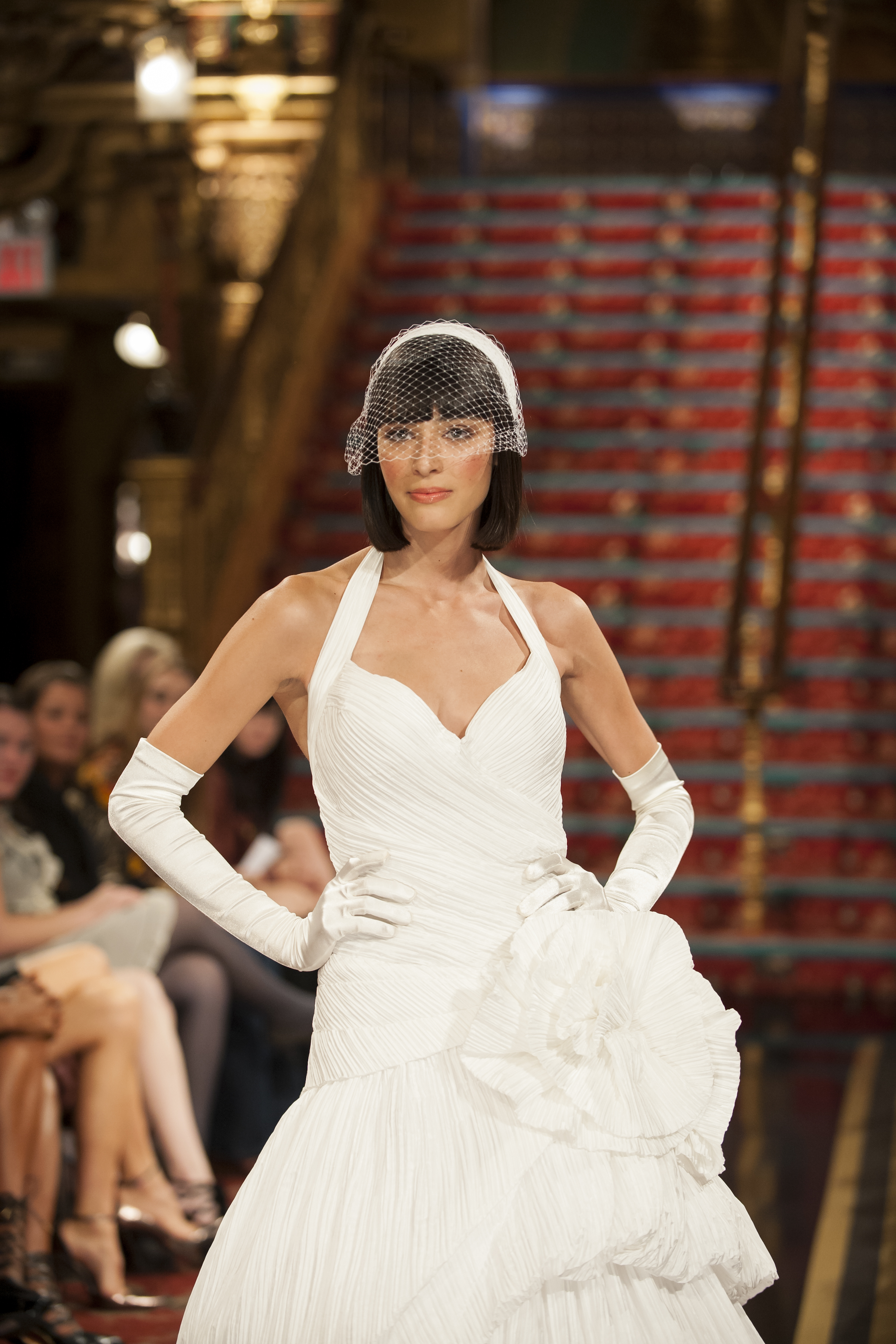 Next up was our weekly campaign. Nigel told us that we would be walking in a runway show for Kleinfeld. I was so excited. I had never had the chance to wear a wedding gown on the runway. But then Nigel told us that our challenge would literally have some "ups and downs" as we would be walking up a set of enormous staircases. I went into immediate panic mode. I've fallen down stairs in my own house more than a few times and that was when I was barefoot, so the idea of walking up some 20 odd stairs in a 20-30 pound gown, in 6-inch heels, was not exciting.
We received a little time to work on our walk with our coaches and rehearse on some stairs in our gowns in the back on the house; little did I know they were the smallest stairs ever and I totally slid down all of them. But being the nerd I am, I got right back up and made a joke about it saying, "I'm going to do that out there" (pointing in the direction of where the show was going to take place). Insert foreshadowing here!
It was time for the real show to begin. First out of the gate was Stephanie and she killed it! I had never seen her look so poised and elegant. She didn't even glance down at the stairs once! Brittany followed and Coco was not impressed saying, "She is so awkward walking down those stairs. I know Brittany is trying to be beautiful, but that isn't beautiful," I hate to say it, but I totally agreed. Brittany's poses at the end of the runway were a little over the top.
Next, it was my turn. Yay! Just kidding, I was terrified. My dress was a little long, and to make it better, I had already fallen down the practice stairs backstage. I knew all I could do was remain calm, focus and hope! I (somehow) made it down the stairs and to the end of the runway; what a total relief! But apparently I got ahead of myself because on the second to last step, I pulled a Jennifer Lawrence and collapsed. Just like the Oscar-winning beauty, I got back up, turned around, and smiled at the audience. Any one of the coaches will tell you, it's not about how you fall, it's about how you get back up in this business. I think I handled it really well.
None of the other girls seemed to stand out to me, but they also didn't fall and make a scene. I thought Madeleine and Devyn looked stunning; they both carried themselves so well, even despite Madeleine's slight dress fiasco going up the stairs (she kept stepping on her dress and had to hold the railing). Jocelyn seemed very uninterested in the whole affair, leaving Naomi unimpressed and mentioning numerous times that Jocelyn was "not a runway girl." In the end, Zi Lin stole the show in her beyond enormous, couture creation of a gown. That thing was monstrous and all I can say is that I'm glad I didn't get that dress.
In the deliberation, Kleinfeld fashion director Terry Hall mentioned the positives and negatives for each team. He started with Team Naomi, only mentioning Zi Lin and saying she worked that huge dress. He said Ebony from Team Karolina failed to work her train, and Madeleine appeared "lifeless." For Team Coco, he remarked on my lack of expression, saying that after I fell, I had a lot of expression and he'd wished I'd had it from the beginning (you and me both, Terry!). When it came time for him to review Brittany, he couldn't even remember who she was. He flipped through photos and realized she was the only one in a black wedding dress whose "staring was distracting." In the end, he announced Team Naomi as the winner, earning 33 of the total 50 votes. I wonder how many of those were for Zi Lin. Way to carry your team up and down those stairs to the win, girl!
Back at the loft Nigel announced the winner and Sandra, of course, went ballistic. That was the third time Team Coco has been in the bottom and I was worried I was headed to the elimination room. To my surprise, Coco admitted that falling happens, and that it's not about whether your fall or not, it's about being the "memorable one." She then said that Brittany wasn't memorable, and ended up sending her to elimination (By the way, Brittany had ironically walked for Kleinfeld before, and they didn't remember her then either, ouch!). I was so glad I was safe for another week, but I sad to see one of our team members sent to the elimination room, and against Naomi, nonetheless. Karolina chose Ebony as a strategic move, saying that she felt Madeleine wouldn't be able to handle it.
Once Ebony and Brittany were standing before Naomi, they both divulged their equally hard life stories, but Naomi was not amused, firing back, "I did not appear on the September issue of Anna Wintour's American Vogue, by going in front of her saying, 'this is my life story, I've never met my father' no she doesn't want to hear it." Naomi was cutthroat and not basing her decision off the better sob story, which I really liked and respected.
In the end, she chose Ebony to stay because of her "drive." Brittany closed the show with a heartwarming speech about how this was just another obstacle that she would have to overcome. She said, "This unfortunately for me is another one of those 'no's' and I just have to keep going and wait for that 'yes.'"
Brittany is one of the strongest girls I know. This is only a speed bump on her way to success. Get it girl, you will be missed, and you are obviously Team Coco for life!
Team Coco is now the first team to have only two girls. We really need a win. Tune in next week to meet the hardest client I've ever had to work with... ever! The Face airs Tuesdays at 9/8c on Oxygen.
Check out Margaux's blogs from previous weeks!
The Face's Margaux blogs: Christine should be ashamed to call herself a model
The Face's Margaux blogs: The claws weren't out yet
Photo credit: NBC