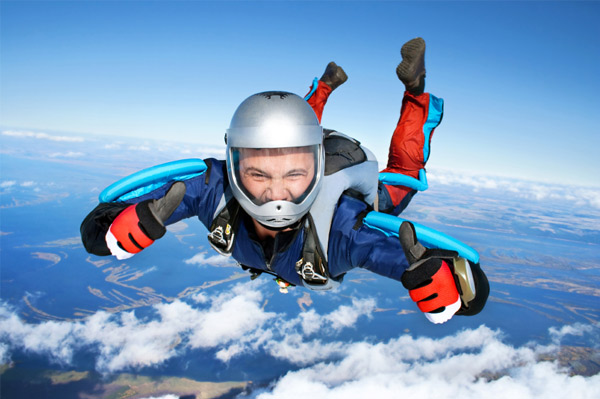 Sky high adventures
Is life getting too predictable? A shot of adrenaline might be just what the doctor ordered. Get your blood pumping with one of these adventures in the sky. After all, why should the girls on The Bachelor have all the fun?
Hot air ballooning in Napa Valley
Imagine yourself in the basket of a big, beautiful hot air balloon, flames thrusting upward as you take flight. You're on your way to a bird's eye view of the vineyard-covered hills of Napa Valley. Bring your sweetheart, your gal pals or the whole family and drink in the scenery. Remember, you're in wine country, so the scenery isn't the only thing you'll be drinking in. If you're enjoying a ride with Balloons Above the Valley, your hot air balloon experience includes a pre-flight coffee and post-flight champagne brunch. Salut!
Helicopter tour of the Grand Canyon
If a trip to Las Vegas is in your future, take a break from Sin City and enjoy a helicopter tour of the Grand Canyon. Heli USA Airways offers day trips from McCarran International Airport. Just make sure you take it easy the night before, because this adventure is not for the faint of stomach. First, you'll cruise over, and then 1500 feet below, the rim of the majestic canyon, landing at a historic cattle ranch for a wagon ride, western meal ("best pork ribs I ever tasted" said one reviewer) and optional horseback ride. True western buffs might want to enjoy one of the overnight packages which include lodging, meals, western entertainment and a campfire. Yee-haw!
Sky diving in Hawaii
Oahu's North Shore is pretty spectacular at sea level, but at 14,000 feet, it's an entirely different experience. Try the ultimate tandem sky dive with Pacific Sky Diving Hawaii, and you'll find yourself jumping from a plane and free-falling at 120 miles per hour for a full 60 seconds. You can see from these photos why sky divers fork over the cash for digital images and DVDs of their once in a lifetime experience.
Paragliding and hang gliding in Queenstown
Ask any adrenaline junkie where to travel internationally for major thrills and she'll probably point you to Queenstown, the adventure capital of New Zealand. Here you can experience the rush of bungee jumping, whitewater rafting, river surfing and — the ultimate sky high adventures — paragliding and hang gliding. If you've always wanted to fly like a bird, you might go for the deluxe package that includes both hang gliding and paragliding outings in one day. We hear the experts at Coronet Peak are top notch. One reviewer said they were "so professional and such fun that they put me at total ease about stepping off the mountain." Talk about a leap of faith!
Quick tip:
Before booking your travel adventure, search your destination on tripadvisor.com and read thousands of detailed reviews.
More travel adventures:
Adventures in the water: Swim with dolphins, sharks or stingrays
A travel 'bucket list' within reach
Adventure travel destinations