Mariah Carey vs. Carrie Underwood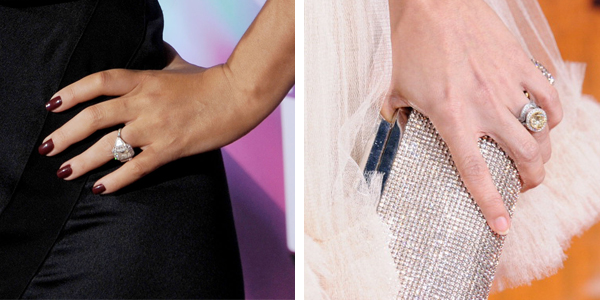 It's the battle of the American Idol wedding rings!
Nick Cannon reportedly dropped serious cash for the 17-karat emerald-cut diamond wedding ring he bought for wife Mariah Carey. The ring is made of a pink center stone (weighing in at 10 karats) surrounded by 58 pink diamonds and two half-moon diamonds.
The only dispute: Entertainment tabloids reported it only cost $500,000, but Cannon maintains that it's worth $2.5 million.
"I don't like to disclose or brag about those things because it's not really anyone's business but it was quite public what I paid," Cannon told MTV News in 2009. "But one thing that is true — I would spend every last dime that I have ever made on my wife. She deserves to be showered with extraordinary gifts and as long as I live I will spend all my money on her and never touch a dime of hers."
Carrie Underwood's rock is as big as her American Idol–winning voice. The country singer rocks a wedding band, along with a 12-karat yellow diamond from jeweler Jonathan Arndy, estimated to be worth a staggering $1.3 million. Hubby Mike Fisher knows how to pick 'em — wives and rings, that is.
Cast your vote!
Hilary Duff vs. Jessica Biel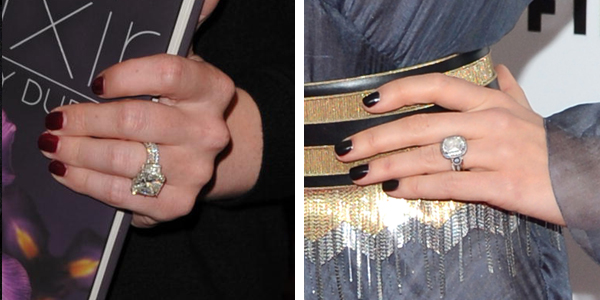 Mike Fisher's hockey colleague Mike Comrie also dropped serious bank on his wife's wedding ring. Comrie spent an estimated $1 million on Hilary Duff's 14-karat diamond.
Even Duff couldn't believe it when he presented it to her.
"I was kind of scared to look at [the ring]!" she told Access Hollywood in 2010. "I got a glance and it was like, are you crazy? Are you kidding me? That's not real. There's no way it's real!"
Justin Timberlake wanted to make new wife Jessica Biel's wedding ring special, so he worked with Las Vegas jeweler Leor Yerushalmi to create the one-of-a-kind ring. According to People, the ring is a center stone made of a square hearts-and-arrows diamond, surrounded by aquamarine and round diamonds set in 18-karat white gold and black rhodium.
Cast your vote!
Giuliana Rancic vs. Kate Middleton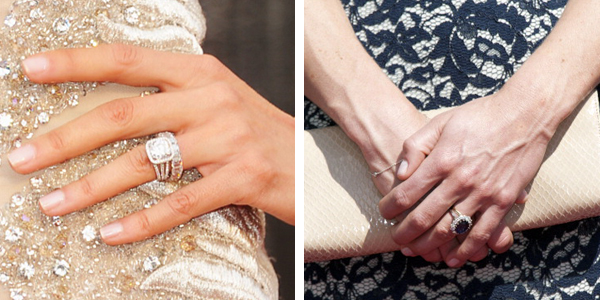 Giuliana Rancic is seriously living in her own romantic comedy. Now-husband Bill Rancic proposed to the E! News host with a four-karat cushion-cut diamond ring by Graff worth a reported $100,000. The actual proposal puts the wedding ring to shame, though.
"Bill proposed in a helicopter above Chicago. It was a total suprise," Rancic told SheKnows in 2011. "I thought we were going to see the Christmas lights on Michigan Avenue and Bill loves aviation. So, I just thought it was something crazy thing he wanted to do."
And, for the other fairy tale: We're all familiar with the blue sapphire engagement ring Prince William gave bride Kate Middleton — it was his mother's most famous ring, after all. However, the actual wedding ring is a true original: It's crafted from rare Welsh gold given to Wills by his grandmother, Queen Elizabeth II.
Cast your vote!

Photo credits: Getty