Rihanna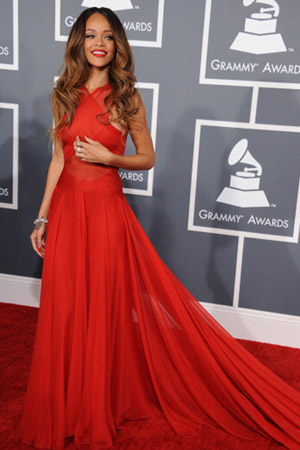 Rihanna put the red in red carpet — literally — with her red Azzedine Alaia dress, Neil Lane jewels and Manolo Blahnik shoes. The whole thing just worked, according to Whitney.
"I always love a cherry red dress and love the monochromatic choices with her nails and lips being the same color," Whit said. "The back was beautiful with its cutouts. Her makeup and hair were old Hollywood and super glamorous."
Florence Welch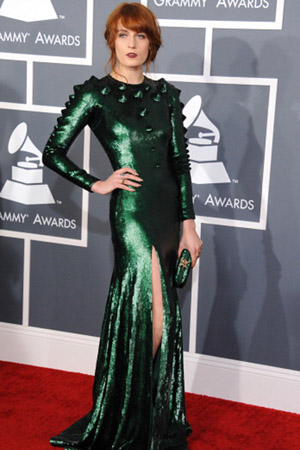 Florence Welch had Givenchy create a custom emerald green gown — complete with dragon-esque spikes. The quirky singer pulled it off with her gorgeous red hair and quirky personality, according to the fashion designer.
"I love jewel tones, and I love the matchiness of her outfit," Whitney told SheKnows. "I am also a sucker for sequins, and the matte sequins were so gorgeous. It was a cool play on spikes."
Katy Perry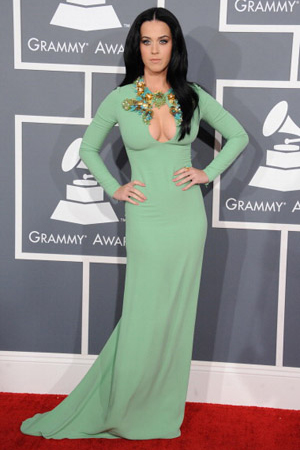 Katy Perry ignored the Grammy rules when she picked out her Gucci gown — complete with lots of space for the "girls."
"I absolutely loved her sea foam green and the gorgeous detailing around her neck," Whitney said. "The dress was sexy — showed a little much — but I love that she feels comfortable flaunting it."
Taylor Swift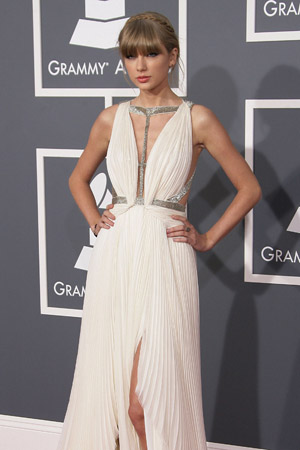 Taylor Swift went the Grecian route with her white J. Mendel gown — and it was a win, according to Whitney.
"It was gladiator style but very pretty and flowy," she told us. "I like the touch of metallic within the stark white — another play on the cut-out trend."
Chrissy Teigen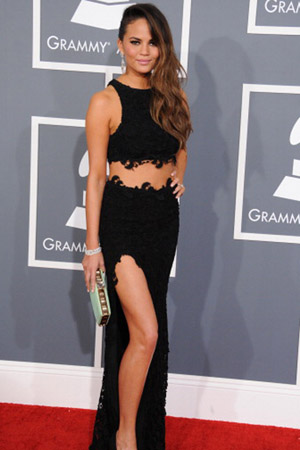 Sports Illustrated supermodel Chrissy Teigen vamped up the red carpet with her lacy Joy Cioci number.
"Although her outfit was very simple, I loved the fact that she wore a crop top with a long skirt with a slit. I felt like I would totally wear something like that," Whitney said. "It looked to be really pretty lace, and it just fit her so well."
Kelly Rowland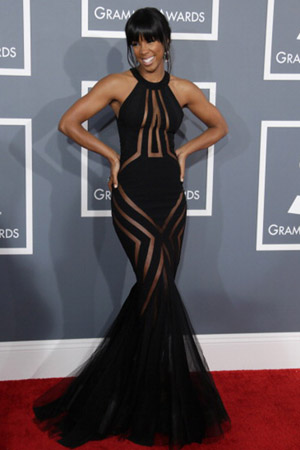 Kelly Rowland showed off her incredible body in her black Georges Chakra Couture gown. It was — hands down — one of the best of the night.
"Hers may be my favorite," Port said. "The geometric sheer detailing was so cool and interesting. It was chic and sophisticated but super sexy. Left a little to the imagination."
Couldn't agree more, Whitney!
About Whitney Port
Whitney Port is not just another pretty face in Hollywood — she's an entrepreneur, fashion designer and role model for young women. Paving her own way in the fashion world, Whitney is the creator and founder of the Whitney Eve collection as well as two new lines, WE by Whitney Eve and Bits & Bobs by Whitney Eve. By combining signature styles from her overarching Whitney Eve collection, WE by Whitney Eve offers modern fashion to women at an affordable price. Bits & Bobs by Whitney Eve entered the jewelry world in 2012 with a costume rationale and a vintage-inspired aesthetic. Made from mixed metals and vintage chains, its hard punk edge is fused with quirky, ladylike charm, resulting in an array of keepsakes. Whitney Eve's collections evoke a girly nature with a touch of punchy sass that distinguishes them from the rest. All three lines are sold in select boutiques nationwide and by retailers internationally and are available on whitneyeve.com.
As if Whitney weren't busy enough, she recently penned the book True Whit, a go-to guide for young women that includes advice on rearranging closets, decorating, makeup, cooking, dating and fashion. It's the one-stop shop for the ideas of Whitney Port! To check out videos, news, photos and more on Whitney, head over to her blog at whitneyport.com.
Read on for more Grammy Awards style
Trend alert: 50 Shades of black at the Grammys
Whitney Port: "Jennifer Lopez's slit dress was super shocking"
Katy Perry in a Priscilla Presley–inspired mint-green gown at the Grammys
Photos: Adriana M. Barraza/WENN.com and Steve Granitz/WireImage