"He Said, 'My Place!' Oh, Mother Of God."
Gross! Katie Couric reveals Larry King assumed she would sleep with him on their first — and only — date.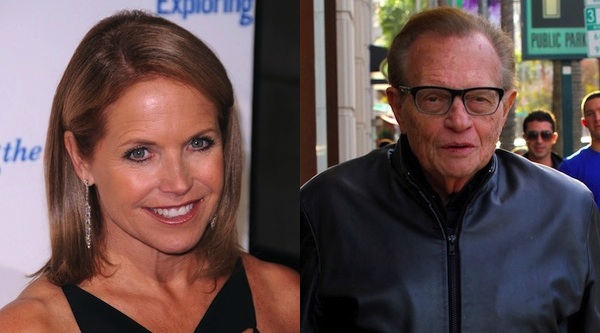 Uh, what universe does Larry King live in? Katie Couric sat down with Jimmy Kimmel Thursday night and told a very disturbing story about her first — and only — date with Larry King in which he not only assumed she would sleep him, but pretty much threw himself at her. Weirdo.
Katie Couric took the stage at Jimmy Kimmel Live and looked fabulous and chic in a black, long-sleeved dress. (How does Katie Couric look this good at 56 years old?) Anyway, as the interview progressed, Jimmy Kimmel finally seemed to get around to what he really wanted to ask Couric: Are Larry King's claims he used to date Katie true? Katie smiled and seemed hesitant and a bit uncomfortable. Her explanation of her and King's "date" made it obvious why: Larry King is kind of a jerk. Katie laughed as she said, "[Larry King's] recollection of the event is very different, Jimmy," and she went on to tell this terrible, terrible tale.
"Alright, so I was about 30 years old and I was going through this period in my life where I was like, 'I'm going to go out with anybody who asks me because you learn something every time you go out with a new person, you learn something about them and something new.' So I met Larry at this restaurant in Washington [D.C.], and what can I say, Jimmy, I was wearing a leather skirt. And so he called me [later] and he asked me out to dinner, and I thought, 'Well, that would be really interesting to have dinner with Larry King.' So he picks me up… he was driving a Lincoln Town Car… and we go to K Street to this Italian restaurant. [The restaurant] puts us right next to each other, like they do with all the men and their nieces…" Katie tells us a bit more about their odd dinner and then finally reveals why Larry King is gross: He just assumed she would sleep with him.
"So we're driving home and I see we're going over Memorial Bridge and that's not the way to my apartment and I say, 'Larry, where are we going?' And he goes, 'My place!' And I was like, 'Oh, mother of god!" Couric says it was awkward because she had absolutely no idea how to remove herself from the situation. She ended up going into Larry Kings' apartment — which was filled with pompous memorabilia — and her story makes our stomach churn with what happened next: "What can I say? He lunged… the whole situation was out of a bad Lifetime movie."
Gross. This entire story creeps us out. Keep in mind that when Katie Couric was 30 years old, Larry King thought he could easily sleep with her despite the fact that King was in his 50s.
You can watch the entire Katie Couric/Larry King dating horror story below: 
Photo courtesy of Ivan Nikolov/Winston Burris/WENN.com