What Shocker Will Happen This Year?
It seems like the Grammy Awards have more shocking moments than any other awards show — even more than the MTV VMAs. We've rounded up a few of the more shocking moments of past Grammy Awards in prep for this Sunday's show. The question now: Who will shock us this Sunday?
Elton John and Eminem team up
Rapper Eminem was criticized by gay rights groups for his consistant use of homophobic slurs in his music. He often say that using the word f****t wasn't a dis to the gay community, but he extended an olive branch at the 2001 Grammy Awards when he performed his song "Stan" with Elton John.
Some worried that the Detroit rapper would use the stage as a way to embarrass the legendary singer, but that was the furthest thing from John's mind.
"I'm a big fan of [Eminem's] music," John told the Los Angeles Times before the performance, "and I said I would be delighted to [do the song]. I know I'm going to get a lot of flak from various people who are going to picket the show... I'd rather tear down walls between people than build them up. If I thought for one minute that he was [hateful], I wouldn't do it."
The performance ended up being one of the more memorable ones in Grammy Awards history.
Bob Dylan's "soy bomb"
It takes a seasoned performer to stay poised during a stage crash. We found out that Bob Dylan is one of those performers during the 1998 Grammy Awards when performance artist Michael Portnoy took to the stage while the singer performed "Love Sick."
Why "soy bomb?" Portnoy later said, "Soy... represents dense nutritional life. Bomb is, obviously, an explosive destructive force. So, soy bomb is what I think art should be: dense, transformational, explosive life," according to Entertainment Weekly.
But he's also said it means other things, too, so he probably doesn't even really know.
We just think he should have been embarrassed by his total lack of dance skills.
Chris Brown assaults Rihanna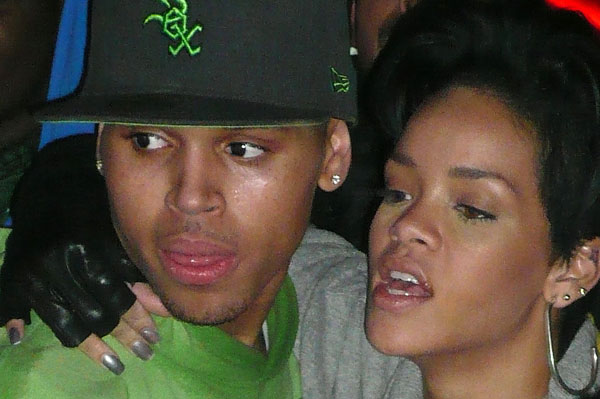 Chris Brown and Rihanna were considered one of the cutest couples in music — that is, until Brown savagely beat his girlfriend during Grammy Awards weekend 2009. The two split afterward, but now they're back together.
"When you add up the pieces from the outside, it's not the cutest puzzle in the world," Rihanna told Rolling Stone in a new cover story. "You see us walking somewhere, driving somewhere, in the studio, in the club, and you think you know. But it's different now. We don't have those types of arguments anymore. We talk about s***. We value each other. We know exactly what we have now, and we don't want to lose that."
O.D.B. crashes the stage
The now-late Wu-Tang Clan rapper Old Dirty Bastard was pretty upset when his group lost the Best Rap Album award at the 1998 Grammy Awards. So upset, in fact, that he rushed the stage to express his anger. The problem? Singer Shawn Colvin was trying to accept her award for Song of the Year.
We get it, O.D.B. — we'd be upset too if we bought an expensive outfit, only to lose.
Photo: WENN.com