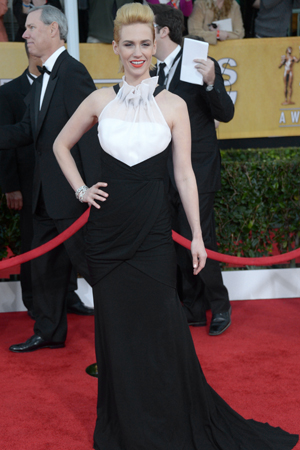 Most interesting look: January Jones
So, January Jones didn't quite make the B-squad, but Whitney noticed her for something else: her hair.
"January Jones hair was awesomely edgy and cool," Whitney said, though she didn't say the same about the i actress' Prabal Gurung dress.
"I didn't love her dress," the designer added.
"We want to see things that we
could never wear... something different."
Whitney's style advice for the Oscars and Grammys
Every A-lister wants to make it on the best-dressed list, no matter if they admit it or not. Whitney says celebs can make the jump from B- to A-squad by taking more risks with their gowns.
"We want to see things that we could never wear... something different," Whit told SheKnows.
A perfect example? Amanda Seyfried and Kerry Washington took a chance — and it paid off.
As for the beauty aspect? Go with the mantra that "less is more."
"I always think if you are going to make a statement on your face to do either eyes and no lip and bare eyes and a bold lip," Whitney advised.
Listen up, celebs! Whitney knows what she's talking about.
About Whitney Port
Whitney Port is not just another pretty face in Hollywood, she's an entrepreneur, fashion designer and a role model for young women. Paving her own way in the fashion world, Whitney is the creator and founder of the Whitney Eve collection, as well as two new lines, WE by Whitney Eve and Bits & Bobs by Whitney Eve. By combining signature styles from her overarching Whitney Eve collection, WE by Whitney Eve offers modern fashion to women at an affordable price. Bits & Bobs by Whitney Eve entered the jewelry world in 2012 with costume rationale and a vintage inspired aesthetic. Made from mixed metals and vintage chains, hard punk edge is fused with quirky ladylike charm resulting in an array of keepsakes. Whitney Eve's collections evoke a girly nature with a touch of punchy sass that distinguishes itself from the rest. All three lines are sold in select boutiques nation-wide, retailers internationally and are available on whitneyeve.com.
If Whitney wasn't busy enough, she recently penned the book True Whit; a go-to-guide for young women that includes advice on rearranging closets, decorating, makeup, cooking, dating and fashion tips. It's the one-stop shop into the mind of Whitney Port! To check out videos, news, photos and more on Whitney, head over to her blog at whitneyport.com.
Watch: Whitney Port shares her favorite looks from the SAG Awards
Photo credits: Getty